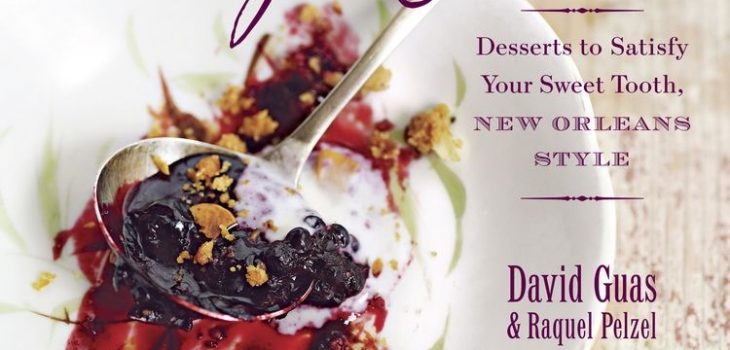 Tweet
David Guas was selected among America's most gifted pastry chefs to create a dessert for O's, The Oprah Magazine's tenth anniversary. Inspired by the dessert traditions of Louisiana explored in his book, DamGoodSweet, Chef Guas created a spiced "Gateau de Bayou."
An Oprah Winfrey "wind beneath my wings" feeling is developing as I continue to remark, review, and recommend books, pamphlets, and articles, although, in my case, they will be confined to the culinary and related field. If you see it here, just consider that it just may be worthy of further investigation – as I implied before, I don't give recommendations will-nilly.
Reverting to a childlike state for just a millisecond: "Holy cow, DamGoodSweet by David Guas and Raquel Peizel is a waaaay cool cookbook that will take you on a New Orleans journey through its streets of SWEETS."
Ok, where do I begin? I just received this book on Wednesday following a feature interview with Chef David Guas, who is also waaaay cool, engaging and talented. On this one, I am revealing all. Following our interview, my chef (I always feel that they are mine as long as I have them temporarily under ink so to speak) shipped me a goodie box, which included pralines, the like of which I have never, ever tasted (recipe in the book) and something called PorKorn (popcorn with bacon + a kick.) My cat is now grounded for two weeks for breaking the plastic wrapper on the PorKorn, although it's not as if I wasn't aware of her piggy addiction, so maybe one week restriction?
DamGoodSweet was, understandably, both an International Association of Culinary Professionals (IACP) finalist in the 2010 American Cookbook category and James Beard book award finalist for Baking and Dessert.
Classic recipes of New Orleans with a little French Market history baked into the batter of buttermilk beignets. Sharing the recipes like Aunt Patty's fried apple pies to Nana's lemon icebox pie, not to mention the cakes, custards, ice creams, jams, jellies, and lagniappes (what are lagniappes?) take you to where Chef Guas has been.
Purchase on Amazon: DamGoodSweet
Discover more fascinating facts about Chef David Guas @ BayouBakeryva.com