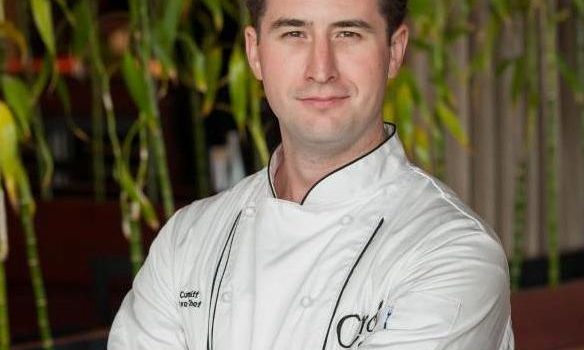 Tweet
YET ANOTHER CULINARY WUNDERKIND – Chef Elliot Cunniff – a brief excursion through his fast and furious culinary-climb-formula, actually, tree swing is a better descriptor – leave-no-stone-unturned is this chef's mantra. So we're clear on the meaning of wunderkind:wun·der·kind
ˈwo͝ondərˌkind/
noun: wunderkind; plural noun: wunderkinds; plural noun: wunderkinder
A person who achieves great success when relatively young. A child prodigy; also: one who succeeds in a competitive or highly difficult field or profession at an early age.
Elliot forged his way to chefdom out of nowhere, hustling through the line of kitchen fire like a bullet, one aimed at the bulls-eye of success. Exactly how does that work? His voice is calm and easygoing as he delivers the class lecture; I am his lone pupil. It's not like getting the dirt, or the scoop; I was the curious student and Elliott fast-tracked me through the game components – quick and intense.
Chef Elliot Cunniff grew up in Albany, New York, and by chance, rather than choice, took a job as a busboy at the age of 14. As many future chefs discover their love of food this way, Elliot was no exception – his checkmarks: love for food, restaurants, and making people happy. After working in nearly every front-of-the-house position possible, he turned his attention to the heat and stress of the kitchen.
It remains a mystery as to what voodoo permeates the pores of a chef as their passion kicks in and latches on for dear life but, once the ingredients seep into the willing psyche, there seems to be no turning back, therefore, quite naturally, Elliot's next chess play was to move to Buffalo to gain exposure to new chefs, new cooking styles and a formal education in the art of cuisine and hospitality. Over the subsequent six years, he earned a Bachelor's degree in Hotel & Restaurant Management from Buffalo State College and an Associate's degree in Culinary Arts from Erie Community College.
Boy has to make good in his hometown, so, back to Albany, where he rapidly moved through the ranks in the kitchen soaking up any knowledge from the willing. Now, here comes the two primary bullet points that are the building blocks for a successful "wunderkind- operating-system," determination and talent, they're inextricably bound together like chemical elements.
Elliot's determination portion of the WOS (henceforth, the wunderkind-operating-system will be referenced as such) equation quickly earned him the title, executive chef at Creo restaurant and was deemed a Certified Executive Chef by the American Culinary Federation. In 2012, at the age of 25, he was given the prestigious Rising Star Chef award at the Albany Chef's Food and Wine Festival.
The previously mentioned WOS bullet point, talent, requires all the basic, intermediate, and advanced chef skills are as sharp as the sharpest knives in the best restaurants on the planet. That's not enough, the chef must develop his own, as signature as possible, style. Not easy, but not impossible. As Elliot's rustic American cuisine matured, it grew its little chef's singular style legs, borrowing from Italian, French, Japanese, Spanish and Indian cuisines. For a chef, developing a singular style requires a very healthy dose of creativity, and most likely, an unhealthy run of insomnia. Seamlessly integrating global diversity into, not one, but multiple dishes, would be akin to designing a kaleidoscope – selecting the pieces, tediously tinkering with the metering and balancing of those pieces, and, where and how to fit the many disparate morsels together. Not for the faint of heart.
From a concentration on developing his skills as a chef, Elliott made a U turn back to determination by moving on, and most importantly, up. Up to an ambitious chef, most always means moving to a food mecca or working under a chef of note, preferably, both. This is how chef Cunniff wrote his resume: New York City and a position as sous chef to the critically acclaimed (and 3 Michelin starred) French chef Daniel Boulud at his signature restaurant, Daniel, DB Bistro and Boulud Sud. Diversifying his resume further with culinary status, by any means, he took on stage work (work for no pay) in some of the prestigious restaurant kitchens in America. Daniel Humm's Eleven Madison Park & Nomad; David Chang's Momofuku Ko; Alex Stupak's Empellon Cocina; Michael White's Marea & Morini and David Burke's Townhouse and Kitchen and Fabrick where he settled in as executive sous chef, well, at least for awhile.
Lets sum up the lifeblood of that WOS, (wunderkind-operating-system, if the term has slipped your mind). This is how it rolls out in Elliot Cunniff's world, and take note that, given the check points are ticked, insures that an aspiring chef, one that has no interest in mediocrity, will be able to make choices on when and where he wants to place himself as a culinary professional.
Networking with anyone and everyone in the business
Following up on absolutely every lead
Creating your own leads by reaching out to every admired chef and their kitchen staff
A willingness to work for free (stage) in order to train in the prestigious restaurants
Relocating until you question what city you're in
Working long and laborious hours
Waking up in the morning and doubting your spine can support the rest of your body
A Passion for cooking
A belief that there is nothing else in life that you want to do – period!
Did I mention TALENT, which is the foundation or all the other checkpoints count for nothing – you're out – the structure just toppled?
What's Chef Cunniff doing now?:
Elliot Cunniff, culinary cache firmly in hand, made the classy decision to become the chef de cuisine at the très chic, Soho Grand, Manhattan's first luxury boutique hotel in the heart of trendy, art gallery, boutique, and restaurant-laden SoHo. The Grand Bar & Lounge and the Club Room has the sound of elegance and certainly is stylishly fashionable, in other words, chic.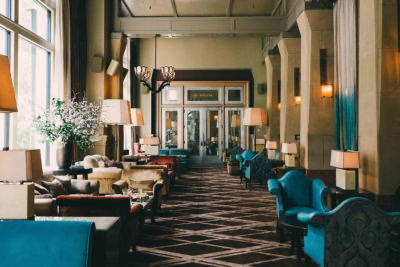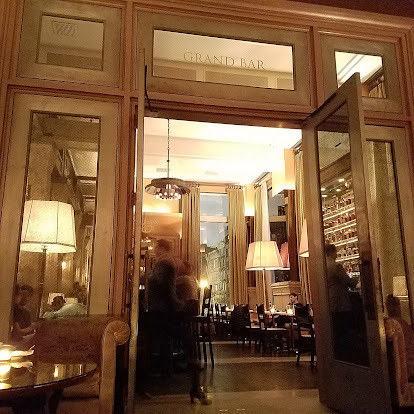 If in NYC, make the Soho Grand a stop, or for that matter, book a cozy room and let Elliott's creative cooking be the icing on the cake. If you by chance say hello to chef Cunniff, or, relay a message to him expressing your appreciation for his superb creations, be sure to let him know that you are in wonder about his WUNDERKIND status.
Chef Cunniff's Bits + Pieces:
What ingredients do you think are the most versatile, the ones you couldn't live without? My staples: high quality salt, it's a building block. Good finishing vinegar. Not enough people use acid to season. Butter. Everything needs more butter.
What are your favorite foods? Offal: tongue, cheeks, etc. Fresh truffles, whole roasted chicken or rabbit. Root vegetables.
Favorite dish? Fresh pasta
Are there any foods that you avoid? Insects
Is there any particular junk or obsessive food that you can't resist now and then? Oreos, with lots of milk of course.
What are your favorite treat/high ticket price items to buy? What would you buy if price were no object? High-quality caviar, foie gras, and truffles
Any favorite places to shop for food; market, deli, etc.? Union Square Market and Chelsea Market, N.Y.
Favorite restaurant for, breakfast, lunch, dinner:
Breakfast: Russ & Daughters, 179 E. Houston St., New York (smoked fish, caviar and New York-style specialty foods)
Lunch: Harry & Ida's, 189 Avenue A, New York (house-made pastrami and specialty deli items)
Dinner: Degustation, 239 E. 5th St., New York (French-Spanish small plates)
What's the biggest food-related surprise you've ever had? When I was young I had a chef feed me raw foie gras. I trusted him not to want me dead so I tried it. It opened my eyes to what was really possible with food. I've never looked back.
What's your most treasured family recipe? Grandmother's mashed potatoes
What recipe would you like to find? (For a dish you've had or one you'd like to invent?) Secrets to the best pasta recipes, e.g. ingredients, technique, etc.
If you weren't a chef, what would you like your occupation to be? Race motorcycles professionally
Where in the world would you like to visit that you haven't been? France and Dubai
Favorite cheese? Beemster (gourmet Gouda)
Favorite chocolate? Valrhona Caramelia
Favorite herb? Thyme
Favorite wine and/or liquor? Wine: Cabernet/Zinfandel blend – Liquor: Hudson's Bourbon
Favorite flower? Tulip
Favorite singer? Chuck Ragan
Favorite painter or artist? Jackson Pollock
Elliot's Recipe>>
CUTTLEFISH AND SQUID INK TORTELLINI WITH SPICY POMODORO
Ingredients
1 large 1-2 pound cuttlefish, cleaned and cut into 1 1/2" filets
Milk to soak cuttlefish
Squid ink pasta dough
Cheese filling
Egg wash
Semolina flour to store tortelli
Fresh basil
Spicy pomodoro
1 clove garlic smashed and chopped
1 pinch red pepper flakes
Salted Pasta water
Directions
1) Score cuttlefish filets lengthwise about ½ way through the meat.
2) Slice scored cuttlefish filets crosswise into ¼" batons. Soak in milk while making tortelli.
3) Roll out pasta with a pasta machine to 2 on the dial or by hand if you're brave.
4) Cut pasta into circles with a ring cutter. I prefer to make small circles and use more per dish.
5) Pipe a small amount of filling into the center of the circle and place some egg wash on the edge with a brush or your finger.
6) Press both sides together and pinch the two points to form the tortelli.
7) Store in a deep container on a bed of semolina with a damp cloth over the top until you're ready to cook.
8) Bring your salted pasta water to a rolling boil.
9) Toast chopped garlic and pepper flakes in a sauté pan and add your pomodoro. Warm to a simmer. I use a splash of pasta water to keep the pomodoro from reducing.
10) Strain cuttlefish from milk and cook in simmering pomodoro. The scored fish should curl gently. Don't overcook or the fish will become tough.
11) Drop tortelli into pasta water and cook until pasta is tender, approximately 1 minute.
12) Add cooked pasta into sauce and toss quickly with fresh basil to wilt.
13) Plate and enjoy!
Tortelli filling
Ingredients
8 ounces fresh ricotta
8 ounces grated parmesan
4 ounces cream cheese
1 pinch sea salt
1 pinch espellete pepper
Directions
1) Mix all ingredients together well in a mixing bowl.
2) Put mixture into a pastry bag and chill.
Squid tortelli
Squid ink pasta dough (food processor method)
Ingredients
4 cups and 2 tablespoons all-purpose flour
1 whole egg and 6 egg yolks
1/4 cup cold water
4 teaspoons squid ink
Extra all-purpose flour for kneamding
Directions
1) Add all dry ingredients into food processor and spin.
2) ½ teaspoon kosher salt
3) Add one egg, and then add remaining 6 egg yolks, one at a time.
4) Add water and spin just until homogenous. The mixture should resemble loose granular sand.
5) Remove from food processor onto a clean table.
6) Work the dough together and kneed vigorously for 3-4 minutes until tight. If the dough is tacky add a bit of flour and work more.
7 ) Form dough into a ball and wrap tightly with plastic wrap. Refrigerate for an hour before rolling out.
Spicy Pomodoro
Ingredients
1 large can San Marzano tomatoes or cherry tomatoes
4 Spanish onions finely diced
6 garlic gloves smashed
1pint parmesan rinds
1cup extra virgin olive oil
½ cup red wine
3 sprigs basil
1 sprig dry Sicilian oregano
1 tablespoon crushed red pepper
Salt & pepper to taste
Directions
1) Toast garlic and red pepper flakes in olive oil over low heat in a heavy bottomed sauce pan, stirring constantly.
2) Add onion and sweat with a pinch of salt to keep from getting color.
3) When onions are translucent and begin to fall apart, add wine and cook until the smell of alcohol is gone.
4) Add canned tomato product and parmesan rinds and simmer over low heat stirring regularly. Spin the pot on the burner to keep the bottom from getting hot spots and the sauce from sticking.
5) After about an hour, add the basil and oregano whole. Bruise the basil in your hands before adding to release its oils.
6) Continue to simmer for another 2 hours, stirring regularly.
7) Remove and set aside parmesan rinds, (these should be soft and can be cut and fried for a delicious snack). Remove oregano and basil stems, squeezing all liquid from them.
7) Season to taste with salt, pepper and red pepper flakes if desired.
To find out more about Elliot at the Soho Grand Hotel visit: www.sohogrand.com/