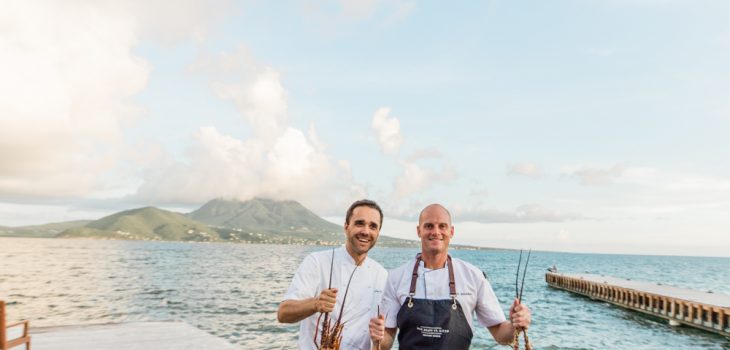 Tweet
The Stuff Of Chefs Dreams—Chef Justin Taylor may have woken up one morning to the realization that he had landed an executive chef position surrounded by the idyllic beauty of the St. Kitts Caribbean wonderland but little did he know that his right-place-at-the right-moment would also be the stuff of upper managements wonderland experience as well. The excellence that this chef has displayed in a short period of time is a sprint that only a select few can attain. Overseeing all kitchen operations, menu development, financial performance, and employee retention and development for three restaurants, in room dining and special events is not for the faint-of-heart. The chef's efforts have been recognized by way of the Hyatt Leadership Awards America nominee: Culinary 2017 and 2018. There are ten contenders for this award, which is evaluated on employee feedback, management of expenses, and food improvement. One can imagine the daunting number of staff, all with differing responsibilities, that must be successfully mentored, supervised and psychoanalyzed on a regular basis, if not in the same hour or day and that is just a fraction of the necessary skills to fulfill the expense management and food improvement categories.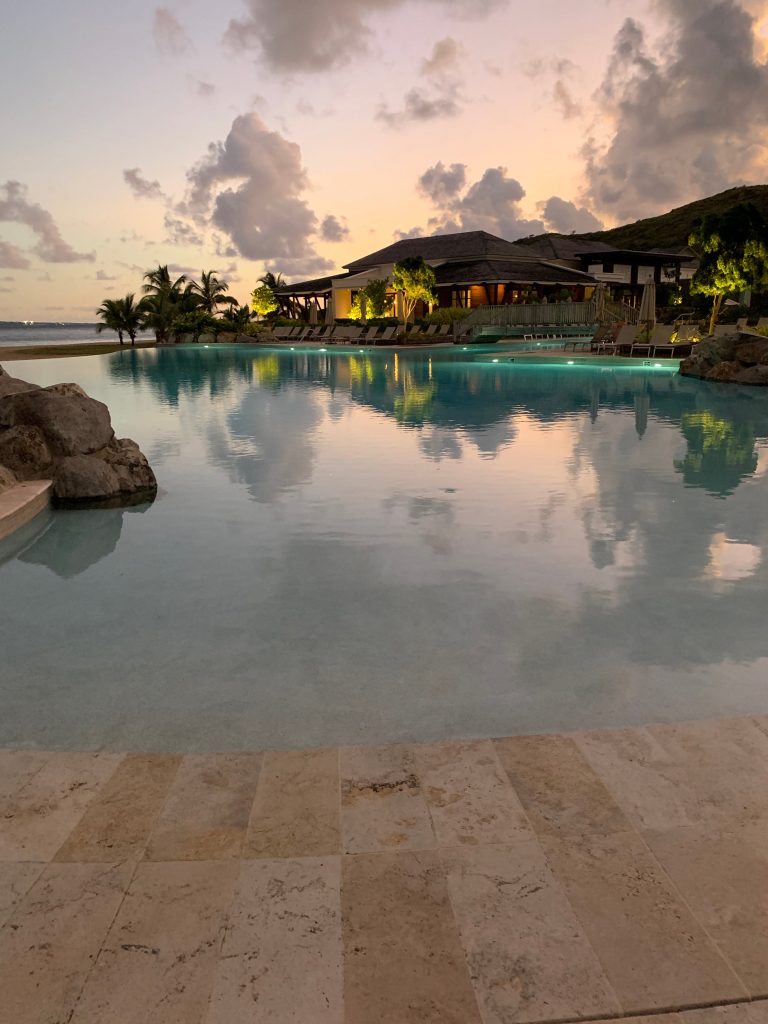 After uncovering his talent for leadership, I concluded that Justin is a bit of a "chef whisperer" (it-takes-one-to-know-one—I am in the category of finding uniquely talented chefs and deciphering their back-story), he neither rules nor mentors by the school of tyranny approach of many chefs. He keeps a cool head and voice while imparting the "kitchen staff word of god". His bible: bringing out the full potential of staff members using simple terms that are understood in a respectful open manner. Creating an environment that encourages growth by giving everyone a chance to learn something new or perfect something already known. Conducting meetings each day at which "everything" can and will be discussed—the good, bad, and the ugly. His emphasis is on busy but controlled and running smoothly. Repetition of this demeanor dissipates the stressful challenges of a group of people working together to a common goal. This style encourages emulation of the same. I haven't been under Chef Taylor's tutelage or in his kitchen but I gather from my conversations with him that he may just be going for professional Zen. A very calm demeanor with a voice that I felt could go military at any display of nonsense. I did try to behave myself.
Now lets change the emphasis to Justin's high level of aptitude in several areas that don't necessarily relate to each other. There is an avalanche of elements to successfully juggle each and every day and when Chef Taylor has a day off, he tells me he is frequently thinking about how to develop or improve one or more of those elements so that the interconnectedness paves the path for continued growth and success.
The lay of Chef Taylor's daily executive chef land are three restaurants: The Great House: all day dining in a luxurious and relaxing atmosphere; Fisherman's Village: ocean-to-table dining for lunch and dinner, reflective of a coastline hut with island-inspired foods and freshly caught seafood.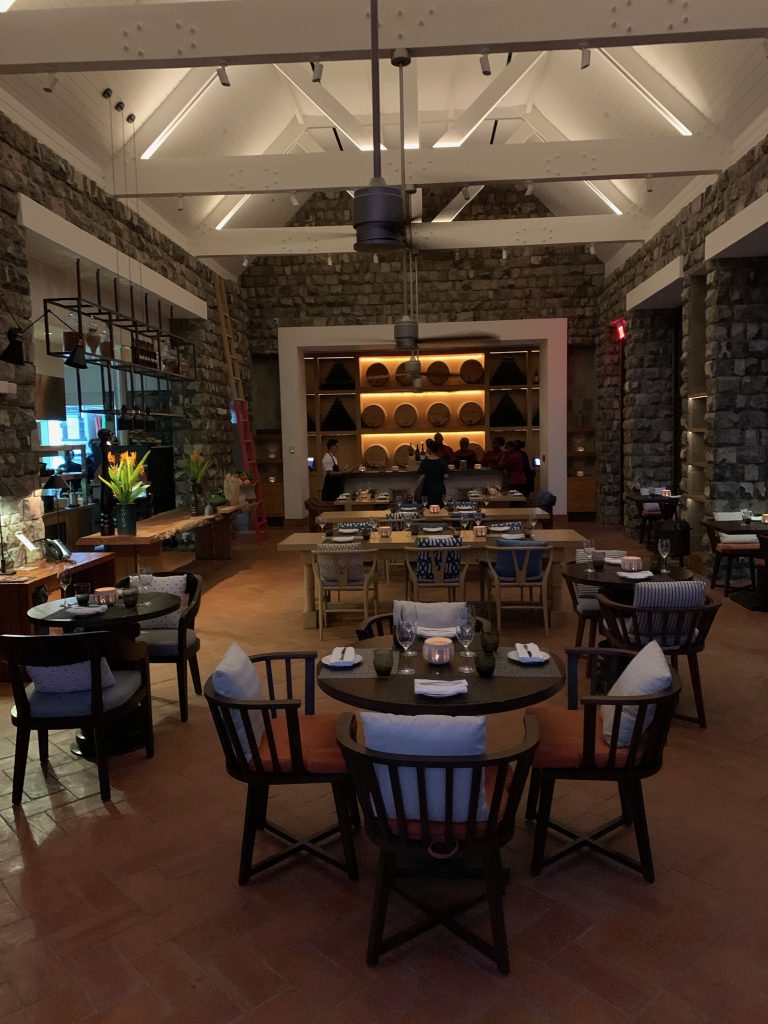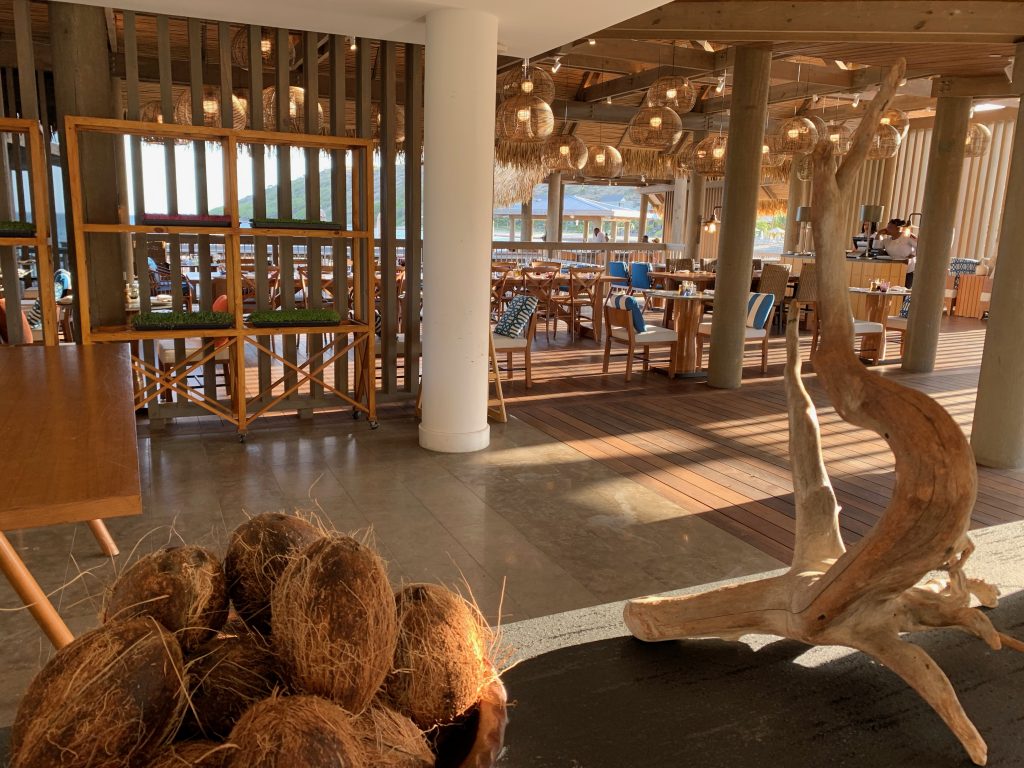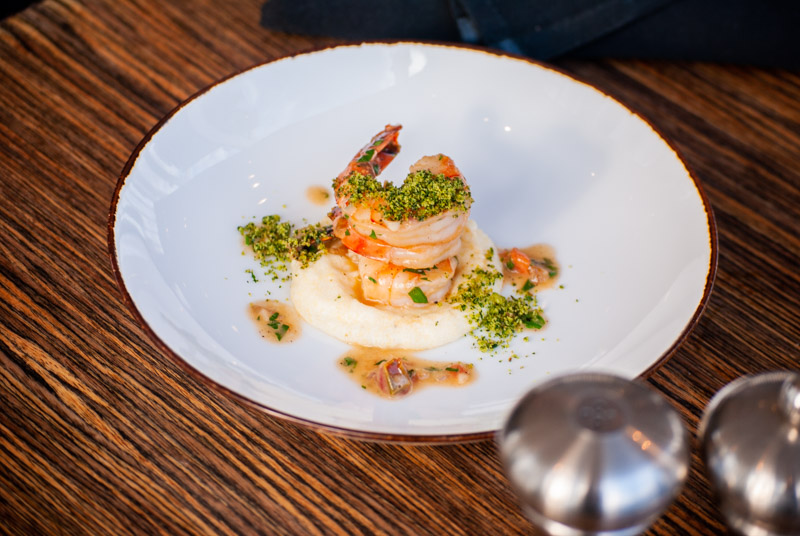 The Stone Barn: dinner dining in elegance with food from the open hearth, and finally, In Room Dining: named "A night at home" – sitting on a private patio or in a private gazebo with its own adjacent waterfall.
Delving into the chef operating system begins with some specific questions that I put to chef Taylor, as well as some gorgeous photos that eventually, like a multi-course menu, give flavor and nuance to Justin's persona and idyllic lifestyle and will bear me out on his "outstanding in his field" qualities.
Your life as a professional chef
HAWKES: What or who originally inspired you to pursue a career in professional cooking (including reasons for selecting a specialized area?)
CHEF TAYLOR: A high school guidance counselor named Mr. Greeher. I figured I would give his name in the event he ever reads this feature. He convinced me to try working at a friend's restaurant. At the time, I had expressed interest due to the appeal of Emeril Lagasse's, "Emeril Live" show back in the day. He suggested I try working in a restaurant before pursuing the career. The restaurant experience was a wake up call to the realities of how difficult this industry is (and was, because it's become a little more balanced recently), but some crazy part of me decided to continue down the chef path.
HAWKES: How has your work/world/life as a chef changed over the past 5, 10, 20, years?
CHEF TAYLOR: I think it has become a little more balanced. I think there is far more attention in all industries to show care and empathy to their employees. Now, it's not the same in restaurants as it is in other industries, but having benefits, bosses and mentors that are more directly in touch with their employee's development, and far more awareness of zero tolerance for harassment or abuse has flipped restaurants upside down. When I first came into this industry, all the chefs I met and worked with were crude, ego maniacs, and not the slightest bit concerned about being fired or sued for how they talk to, schedule people, or approach others in their work environment. Overall salaries have improved, with many restaurants experimenting with gratuity included to help offset shared benefits for BOH and FOH. Many Chefs are keenly aware of the millennial expectations and are adopting ways to be better managers and leaders. In addition, the younger generation are less tolerant of working in a poor work environment, combined with so many restaurants opening recently due to consumers cooking less at home, there is a shortage of chefs. So as a Chef or business owner, there has to be ways to inspire your team, encourage people to come to work for you, and retain talent.
HAWKES: What ingredients do you think are the most versatile, the ones you couldn't live without?
CHEF TAYLOR: For me, the most versatile ingredients that I would struggle without are eggs and anything in the onion family. I encounter lots of allergies on a regular basis and these two I find to be challenging. They're kind of the corner stone ingredients for all styles of cooking in terms of savory and sweet.
HAWKES: If you could teach some simple technique of cooking to an ordinary person that would improve their cooking a great deal, what do you think it would be?
CHEF TAYLOR: I would teach tempering proteins and resting proteins. Meaning: take your chicken or fish or steak out of the fridge for at least 10 minutes before cooking it. This way it cooks evenly. Remove your protein from the heat source when at ½ temperature below desired result and allow to rest for 5-10 minutes. Then briefly return the protein to the cooking source for 30 seconds and when you cut into it, you'll find it to be gorgeous.
HAWKES: What 5 skills do you consider essential for a professional chef to succeed?
CHEF TAYLOR:
Cleanliness and appearance
Organization
Ability to develop a strong team
Hard work ethic, willingness to stay longer sometimes and show up earlier to get the job done.
Open mind
HAWKES: What do you feel most defines your style/culinary vision as unique to you.
CHEF TAYLOR: My food is somewhat French and Italian influenced. Elegant simplicity, not overly complicated unless it makes sense and serves the concept of the dish well. One of my primary concentrations is on cooking techniques so that the full potential of each ingredient is reached. Beautiful and clean is my culinary style.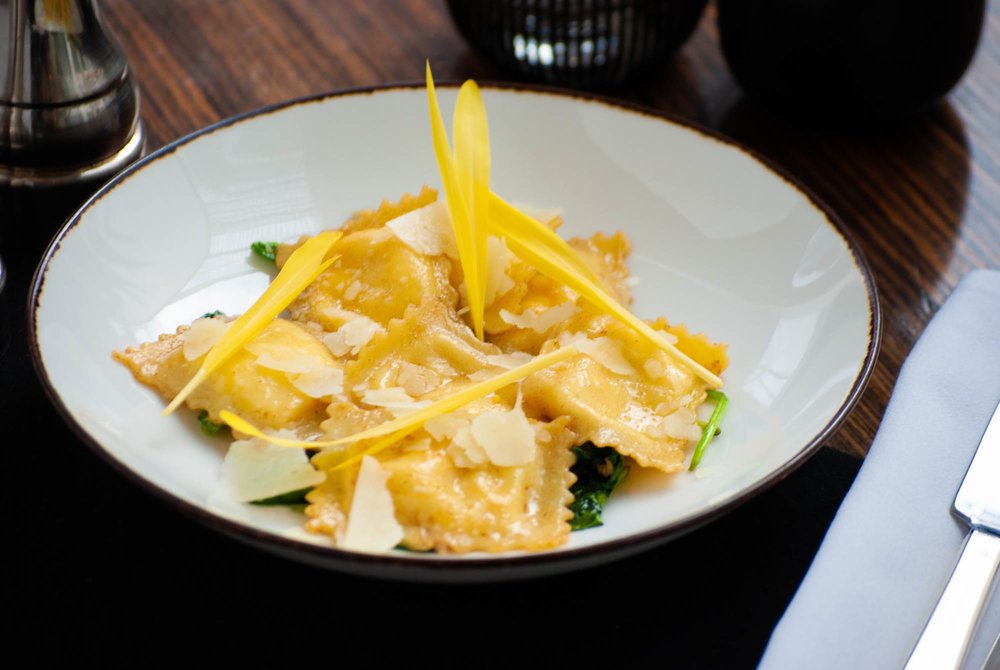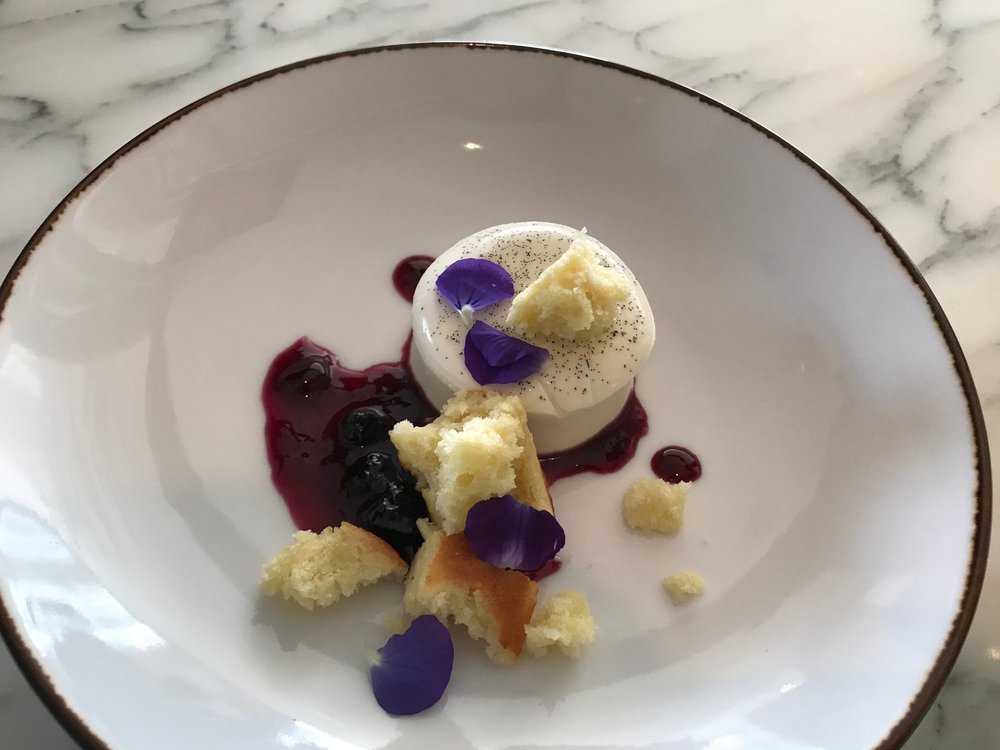 HAWKES: What is a typical workday for you?
CHEF TAYLOR: I typically arrive at work at 8:30 am, get changed, and have a second coffee. I immediately check in with my counterpart the F&B director (you need a good front and BOH relationship), and head to the main restaurant to check on breakfast (90% of in-house guests eat breakfast on property.) If all is smooth, which it usually is, I join a brief 9:30 am hotel meeting, then follow up with our pastry department. We review amenities for the day and special requests. At 10:00 am, I meet with the Executive Sous Chef and review the banquets for the day, purchasing items, and any surprises. From 10:30-11 am I typically approve POs and quickly filter through emails (over a 100 a day). From 11am to 1pm I check the events in-house with the chefs in charge and help make sure they are set up on time and looking perfect. Most days I have another meeting between 1 and 3 pm either with sales, finance, or the leadership committee. If I don't, I try to squeeze in a quick lunch at around 2pm every day and say hi to the employee dining ladies. At 3:30 pm every day I have a chefs' meeting for all chefs and stewarding managers on property. We do a quick round the table discussion by outlet. From 4 pm to 5 pm, I roam between the 3 restaurants, follow up with purchasing to confirm next day purchases, and make sure we are ready for dinner service and try and assist with wherever is needed. From 6 pm-7 pm, sometimes later, I help expedite in the fine dining restaurant and once a rhythm is established, I proceed back to my office to finalize team goals for the following day. If all goes according to plan, I usually head home around 8pm.
HAWKES: Worst full-on kitchen disaster?
CHEF TAYLOR: There have been a few, but possibly a VIP dinner event I did in LA for a couple hundred people which required kosher meals for a few of the hosts. While plating the dinner (we had already plated the first two courses and were plating entrees), we realized two of the kosher meals were missing. We had received the kosher meals, however they were never double checked, so we were missing two dinners which were for the most VIP people at the dinner. Now timing is everything when doing banquets and when you have a good rhythm and everything is going smoothly, but get hit with "we are missing two kosher meals" you think wow, I may have a heart attack. You can't just run to the kitchen and whip up something. Luckily, we were able to handle the situation, go to the kosher restaurant, which happened to be open late, and get them their meal in less than 30 minutes. We dodged a bullet.
HAWKES: What type of environment do you like to work in?
CHEF TAYLOR: An organized one with positive energy.
HAWKES: What is/are the most interesting kitchen tool(s) that you have used or use on a daily basis?
CHEF TAYLOR: Japanese knives such as Korin as well as the iSi gun or iSi whip, which aerates sauces, whips cream and creates foams. I like to use it to make whipped cream sugar.
HAWKES: What chefs do YOU admire, and who has influenced your cooking style?
CHEF TAYLOR: I admire Chef's like Jean-Georges and Jason Atherton whom are able to make Michelin star cuisine and be smart businessmen at the same time with their companies and many restaurants.
HAWKES: What do you think of molecular gastronomy: the use of Xanthan, liquid nitrogen and meat glue?
CHEF TAYLOR: I don't have a problem with it. I think if you are a chef who knows when and how to appropriately use such ingredients it's fine. However, if you're utilizing it just for tricks, I think it's foolish. We utilize some modernist ingredients regularly when preparing a vegan version of familiar dishes or when we cannot find a way to finish something without it. But, we always look to create a dish in its purest form first.
Your life as an eater
HAWKES: What are your favorite foods?
CHEF TAYLOR: Japanese, Thai, Italian, And French.
HAWKES: Are there any foods that you avoid?
CHEF TAYLOR: I have no allergies or dietary restrictions. And as a chef, I think anything can be good, if cooked properly.
HAWKES: What are your favorite meals? Daily meals? Special occasion meals?
CHEF TAYLOR: I love breakfast and brunch.
HAWKES: Favorite restaurant for: a.) Breakfast b.) Lunch/brunch c.) Dinner
CHEF TAYLOR: I think great neighborhood restaurants are the best. For me, Joan's on third in Studio City, CA is awesome for a casual breakfast with friends. Anella in Greenpoint, Brooklyn is a great neighborhood restaurant for dinner that I will go back to time and time again.
HAWKES: Favorite city to dine in?
CHEF TAYLOR: That's tough- a tie between NYC and Melbourne, AU.
HAWKES: Any food trends that interest you? Worry you? Puzzle you?
CHEF TAYLOR: I am a little puzzled by the intentionally "splatted" plating." It very rarely looks nice in my opinion outside of Osteria Francenesca.
HAWKES: What are your favorite cookbooks? Why?
CHEF TAYLOR: A cliché amongst chefs, but the French Laundry Cookbook. It really inspired (and still inspires) me with its timeless fine dining recipes and messages from Chef Keller.
HAWKES: What recipe(s) would you like to find? (for a dish you've had or one you'd like to invent?)
CHEF TAYLOR: My grandmother's (an incredible cook) Thanksgiving dinner from beginning to end. I would love to know what she did and any special ingredients or techniques she used.
Personal Questions:
HAWKES: Favorite hobby outside the kitchen?
CHEF TAYLOR: Guitar
HAWKES: Other, passions and/or interests outside the kitchen?
CHEF TAYLOR: Wine and politics
HAWKES: Favorite things to do in your spare time or on a day off?
CHEF TAYLOR: Exercise, have dinner or drinks with family and friends.
HAWKES: What would you like to do that you haven't done?
CHEF TAYLOR: Open a restaurant of my own, maybe in the Northeast or Melbourne.
HAWKES: Where in the world would you like to visit that you haven't been?
CHEF TAYLOR: Lots of places including: Singapore, Milan, Venice, Copenhagen, the list goes on.
A Few Favorites
HAWKES: Favorite cheese?
CHEF TAYLOR: Difficult to choose one: Bucheron, Parmigiano-Reggiano and Manchego.
HAWKES: Favorite wine and/or liquor?
CHEF TAYLOR: I prefer Italian wines from Northern Italy and Australian Shiraz. I drink a lot of Barbera and Dolcetto. They're not necessarily sweet, normally have great acidity, and have an earthiness that you don't find in Californian wines. Many Shirazes from Margaret River or Yarra Valley are not as big and bold as many may think.
HAWKES: Favorite singer?
CHEF TAYLOR: Hard to choose, Freddy Mercury, Bono, or Sammy Davis Jr.
HAWKES: Favorite architect, commercial building and/or private residence?
CHEF TAYLOR: No one specific, but I love the architecture of Chicago.
Your life as a food consumer
HAWKES: Any strong feelings regarding organic ingredients?
CHEF TAYLOR: No strong feelings per se. I prefer to shop for organic ingredients, however I am aware of the price difference and how it can be unaffordable for many people. So, I would encourage price conscious shoppers to buy organically with the ingredients that make the most sense. You can focus on vegetables with rinds that you will consume or buying organic dairy products etc., but maybe skip all the organic dry storage items.
Justin's Recipe>>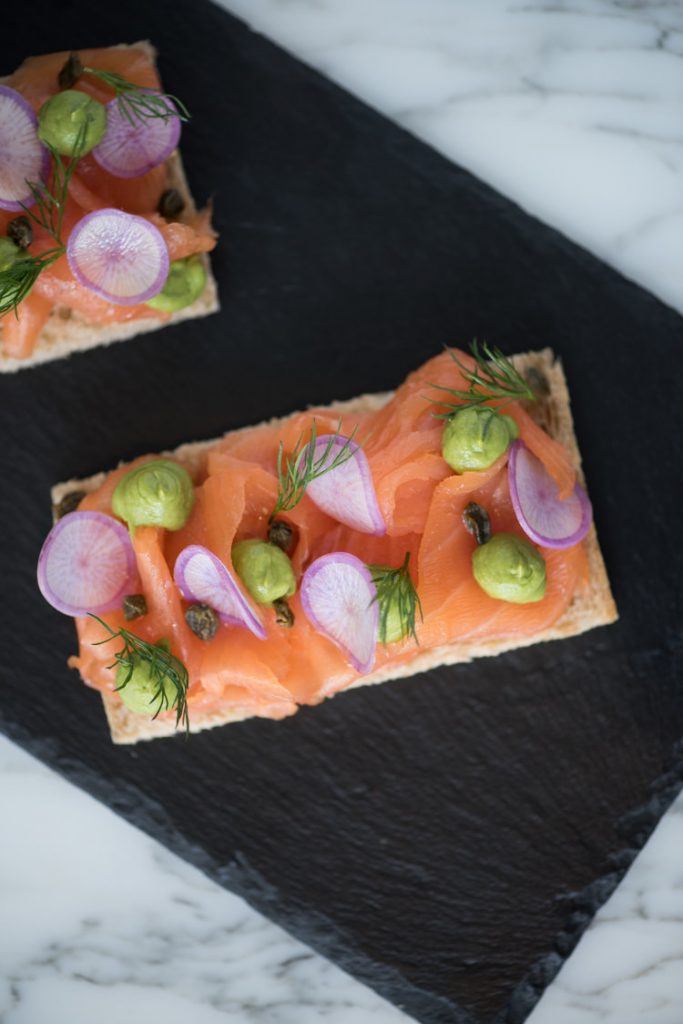 SALMON AND AVOCADO TOAST
Ingredients:
2 slices multigrain toast, cut into rectangles
2 tbsp clarified butter or olive oil
1 tablespoon crispy capers (bake capers in a 350F oven for 15-20 minutes)
4-5 slices shaved baby radishes
2-3 oz smoked salmon
3-4 sprigs fresh dill
Lemon-herb cream cheese:
This can be prepared up to 24 hours in advance and refrigerated, covered in plastic wrap.
6 oz of cream cheese
2 oz crème fraiche
2 tsp. lemon zest
1 tbsp finely chopped fresh dill
1 tbsp finely chopped fresh flat leaf parsley
1 tsp finely chopped basil
1⁄2 tsp of minced garlic
1⁄2 tsp of cayenne pepper
salt and pepper to taste
Avocado Mousse:
This can be prepared up to 24 hours in advance and refrigerated, covered in plastic wrap.
2 ripe Hass avocados
1 tbsp crème fraiche
1⁄2 lemon juiced
1 tbsp finely chopped fresh flat leaf parsley
1 tbsp extra virgin olive oil
salt and pepper to taste
Method:
Toast bread slices in a griddle pan with clarified butter/olive oil until golden brown. Combine cream cheese ingredients in a large bowl and whisk together evenly. Alternatively briefly process in an electric mixer.
Spread cream cheese evenly on both slices of toast.
Arrange the smoked salmon on top.
Combine ingredients for avocado mousse in a blender or food processer until completely smooth. The result should be quite thick.
Pipe the avocado mousse randomly on top of salmon.
Garnish with radishes, capers, and dill.
Enjoy!
To find out more about Justin at the Park Hyatt, St. Kitts visit: www.chefjustintaylor.com, https://www.instagram.com/justintaylor17/