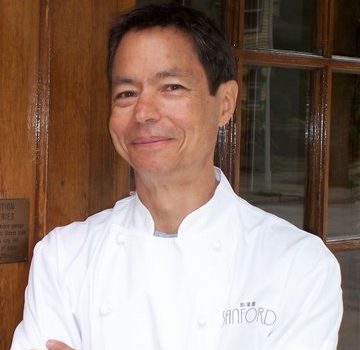 Tweet
A very special chef, and a very special person, writes a very special book — Good Stock: Life on a Low Simmer — that would be Sanford D'Amato of course.
His new book Good Stock: Life on a Low Simmer is an extension and representation of all that Sandy D'Amato is and has accomplished. As the book is described as a memoir with recipes, it delivers all the excitement of this chef's professional journey with perfect equilibrium. Sandy's family story immediately sweeps you up and walks you through his grandfather's grocery store, bounces into southern Italian cooking, and adventures at the CIA, with a good, long rest stop in order to breath deeply the airs of his globetrotting, colorfully recounted kitchen joys and nightmares. This book has you at the initial story of Sandy's gauze wrapped baby hands — how did that occur? Sandy allows us to drink up his life with unfettered storytelling — a stratosphere above the too often one- dimensional chef portrait of self conscious, promotional autobiography.
Let's move on to the food! The recipes – 80 of Sandy's favorites are linked to time, place, and motive, studded with a wonderful collection of menus, personal photographs, and a stunning bevy of food photographs: dishes such as Tarte Fine Aux Pommes (Apple Tart), Tafelspitz (Slow-Braised Beef), and Dungeness Crab Ceviche with Parma Prosciutto, Candied Serrano, Orange Garlic Dressing. Ok, I do have a favorite recipe and photo, as you will too — Ginger Snap Cannoli with Wisconsin Dried Cherry Mascarpone Cream. This twist on the classic cannoli is…well words cannot do this recipe justice.  To purchase GOOD STOCK: Life on a Low Simmer>  www.amazon.com
A Little Backstory
So many use the term to make reference to a "very special" something, or someone, but in this instance, I want to emphasize, highlight, underscore, and stress what guides Sanford D'Amato, or Sandy (as he is fondly called) into his, not simply "special" but "very special" parking space, as one would designate to an outrageously expensive and meticulously maintained automobile. Besides being an outstanding chef who has maintained his family history by transforming the charm of the brick building that he grew in to the sophisticated award winning Sanford restaurant, he is many things. Sandy has a humble and gentle persona (if you hadn't noticed, chefs aren't commonly know for their gentleness or humility). He is a formidable creative force always evolving his own craft by pulling from his considerable storehouse, as well as looking and listening to those around him. Sandy has a well developed gift for spotting and mentoring young and aspiring chefs, most recently his success in this area netted Justin Aprahamian, now the owner and executive chef of Sanford restaurant, a James Beard Foundation award for Best Chef: Midwest. Add an understated sense of humor, inspiring sincerity, generosity, and a bullish ethical adherence he assigns to those situations deemed worthy — Chef D'Amato's "very special" code has been cracked.
A Little Biography
Sanford D'Amato graduated from the Culinary Institute of America in 1974, and stayed on for a one-year fellowship in the Escoffier Room. He then worked in various New York City restaurants through the 70's. In 1980, he returned home to Milwaukee's John Byron's Restaurant where he received national attention in 1985 Food and Wine magazine as one of the top 25 "Hot New Chefs", and touted as "One of the finest seafood chefs in the country" in a 1988 Bon Appétit feature article.
In 1988, he was selected as one of 12 national finalists in the American Culinary Gold Cup, Bocuse D'or. He also competed in the 1988 and 1989 American Seafood Challenge and received one of two gold medals awarded in 1989 and took third place overall. In December of 1989, Sanford and his wife Angela opened Sanford Restaurant in the former site of his father and grandfathers grocery store. It has since received accolades locally and nationally in Food and Wine, Bon Appétit, Wine Spectator 1990 – 2006 Award of Excellence, Milwaukee Magazine, Chicago Tribune, New York Times and Esquire magazine as one of 1990s' best new restaurants.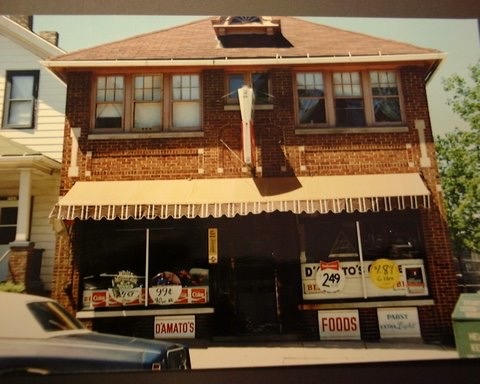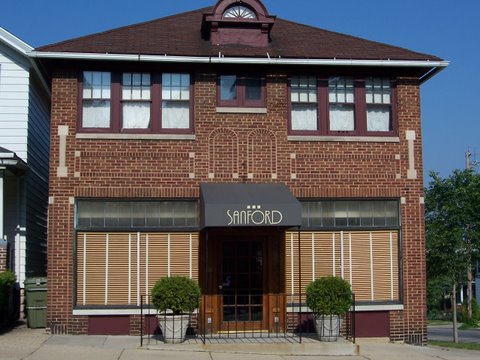 In November of 1992, Sanford was one of 12 chefs in the nation to be personally chosen by Julia Child to cook for her 80th Birthday Celebration in her hometown Boston. Sanford has made television appearances on feature programs such as Dining Around on The TV Food Network, Great Chefs/Great Cities and PBS Julia Child Special, America's Rising Star Chefs. In 1994, Sanford Restaurant was awarded the Fine Dining Hall of Fame award by Nation's Restaurant News and the DiRONA (Distinguished Restaurants of North America) Award and is the 1995 recipient of the Ivy Award from Restaurants and Institutions Magazine. Sanford has also consistently received the AAA – Four Diamond Award and the Four-Star award from Mobil Travel Guide and the highest rating for food (29) and service (29) given by the Zagat guide making it one of eleven top-rated restaurants in the country.
After being nominated for six consecutive years by the James Beard Foundation, Sanford won the Perrier Jouët Best Chef Midwest award in April of 1996. Sanford Restaurant was listed in the 2001 and 2006 issues of Gourmet Magazine as one of the Best Fifty Restaurants in America. In February 2002 Sanford was one of 45 chefs chosen nationally to cook for the Salt Lake City Olympics, United States Art of the Table. For the last seven years Sanford has written a weekly food column, the Kitchen Technician, for the Milwaukee Journal Sentinel Sunday Edition.
In February of 1999, Sanford and Angela opened their second restaurant, Coquette Cafe, in the Historic Third Ward in Milwaukee. Coquette has a local 3½ star rating by the Milwaukee Journal Sentinel. In October of 2005, Sanford and Angela opened Harlequin Bakery, voted Best New Bakery by the Shepherd Express in 2006, next to Coquette Café.
A Little Current Affairs
Sanford D'Amato has conducted cooking classes for over 30 years in his restaurants and traveling with Bike Riders Tours, Seabourn, Crystal, Viking River Cruises and Oceania Cruises. He is currently splitting his time between Milwaukee and a second home in Hatfield, Massachusetts, where his garden and orchards are growing. This is where he wrote, GOOD STOCK: Life on a Low Simmer and is currently conducting a number of very special cooking classes.
To learn more about Sandy's cooking classes at his farm in the rural agricultural town of Hatfied, Massachusetts:
Good Stock Farm
154 Main Street
Hatfield, MA 01038
(413) 247-6090
[email protected]