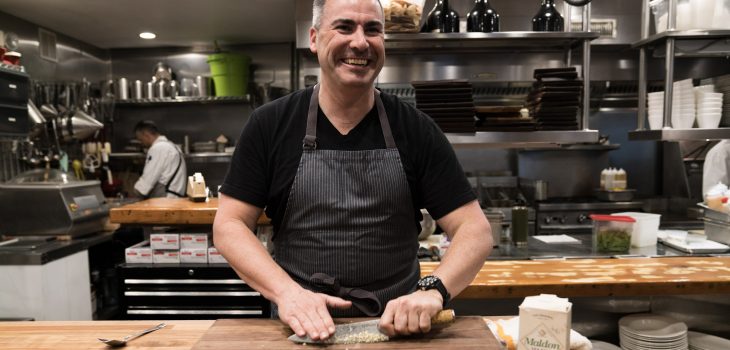 Tweet
Rather than beginning with a chef's place of birth and their journey to chefdom, I prefer to start with something unique, notable, and, well, just fun.
Executive Chef, Sheamus Feeley, the "ingredient king" holds "ingredient court" at Farmstead Restaurant in Napa Valley, California. To be precise, Sheamus "conducts court." Visualize a chef standing on the restaurant side of an open kitchen orchestrating all manner of directives to his kitchen staff, all the while catching almost every visitor to say something that will launch their "warm-and-fuzzy" restaurant dining experience.
Torn between staying focused on the food and watching the chef's performance certainly made for a lively evening. As far as the term, "ingredient king", we'll cover that shortly – just wanted to arouse your curiosity.
His majesty Sheamus Feeley "The Ingredient King" (Photo: Kristen Loken)
Sheamus Feeley's family's restaurant business could not help but be part of his life from the moment of birth. Sheamus explains, "It's in my blood. I've known how to hold a knife like a professional chef since I was 10 years old." Growing up in Fayetteville, Arkansas, to which Sheamus assigns "a cool place" appellation, progressive and liberal, with a university and a couple of colleges, certainly afforded a beginning with promise. Adding to that fortunate fact, he was also the owner of parents that allowed him to take risks – to learn things on his own. They, for instance, were supportive of his desire to travel and explore Mexico and Peru at a young age. This combination of "blessed circumstances" would play a crucial role in the development of his culinary style.
Talking influences on Sheamus Feeley's cooking, apart from growing up in the restaurant business and working for Wolfgang Puck shortly after graduating from the University of Arkansas with a degree in Journalism, was the time he spent in Peru. The lessons learned as a result of the conditions and circumstances of travel supplied the final piece of the puzzle that gave clarity to his decision to become a chef.
In Peru, daily trips to the market necessitated slavery to the seasons in terms of what was, actually available. Definitely a nail-in-the-recipe-to-shopping coffin, this was a dramatic departure from the availability of the out-of-season foods offered in U.S. markets. The good news – that very fact encouraged Sheamus' emerging cooking style. Having a specified spectrum of seasonal ingredients at his fingertips sparked a desire to understand, appreciate, and respect what they were and could be. Selecting and roasting a bunch of squash for a soup that produced a sweet, rich flavor and then contemplating how to cut that richness with what was available – it was a new and exciting food equation to be solved. There were sardines from the Pacific that Sheamus brined, grilled over Eucalyptus leaves and chopped for use as a garnish for the squash soup – the solidity and smokiness of the fish against the rich, sweet soup was the perfect solution. Discovering the ingredients and then building the recipe – that is the key to Chef Feeley's approach to cooking.
Chef Sheamus Feeley's decision to live the rural life, Napa style, was by design. From a cook's perspective, it would be excellent exposure. From a lifestyle perspective, it would also afford him and his family the distinctive characteristics of country living. There would be friends to share his favorite activities with: baseball games, hanging out, cycling, hunting ducks, wild turkey, or wild boar and, there would be the day-to-day relationships with the local shop owners and residents – it would all be available in Napa.
The opportunity for the perfect collaborative effort came when Sheamus met Ted and Laddie Hall, who had owned Long Meadow Ranch in the Napa Valley since the 1980's. The Hall's had been farming organically and sustainably from the beginning. The cattle program already existed. The egg laying production already existed. The olive oil production all ready existed. The wine, the produce, the vegetables, everything already existed. Creating Farmstead-Restaurant was a matter of Sheamus becoming a partner with Ted and Laddie Hall, and taking the retail/wholesale products only model to one in which they could be instantly shared with the public.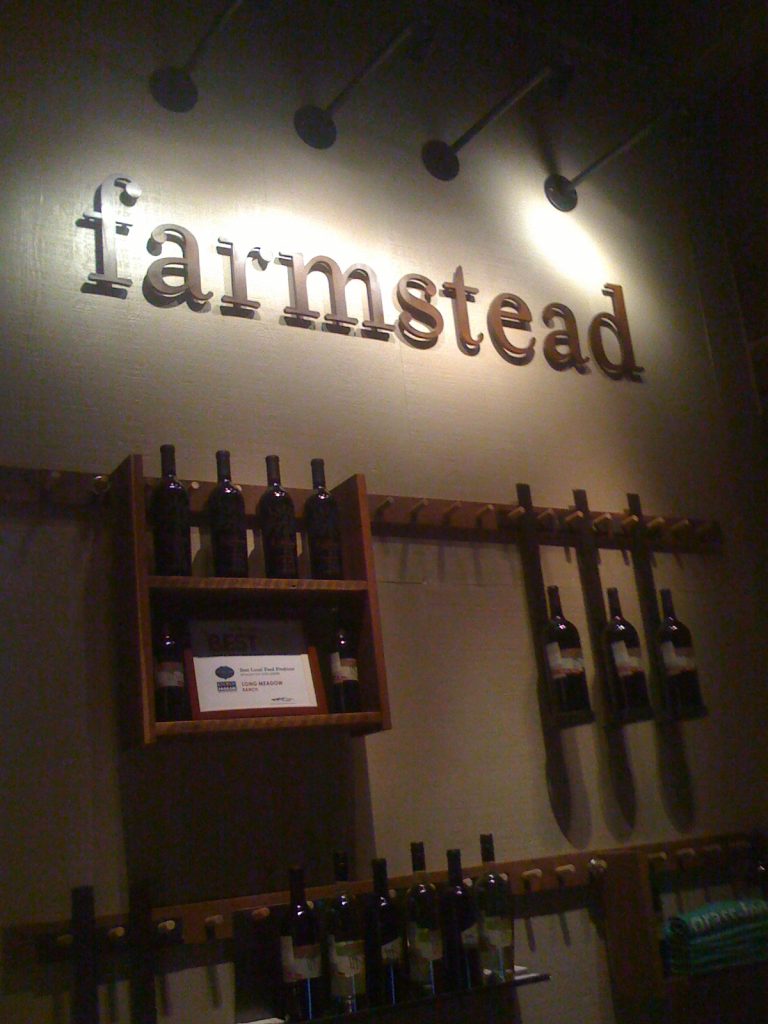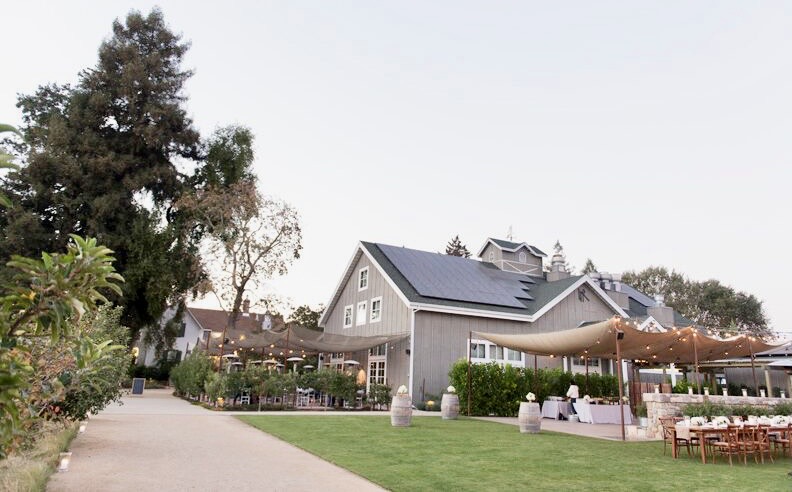 Sheamus does not wax poetic when asked to describe his unique "ingredient-to-recipe" approach to developing a menu, dish by dish, and he does not seem to be concerned that, he, in fact, has a distinctive style. With great, but differing ingredients throughout the year, it can be a challenge, especially in the wintertime, to stay true to his philosophy of using local and seasonal ingredients with very little outsourcing. Nevertheless, what he whips up in the kitchen plays well to the daily crowd of diners who fill the booths and community dinning tables at Farmstead Restaurant. The ongoing challenge to create new seasonal dishes that provide diners with exceptional ingredients and, in-so-doing, support local farmers, producers and friends, is, as Chef Feeley sees it, doubly rewarding.
The development of community for Chef Feeley begins with supporting local purveyors, artisans and foragers. He buys his mushrooms locally, but also has a full-time employee, Avia Hawksworth that does his foraging. Chef Feeley gains enthusiastic momentum as he praises some of his valued suppliers and staff beginning with Avia, "She has done so many things in her career, which makes her totally prepared for her job at Farmstead. She's been a butcher, she's been a chef, she's been a cooking school instructor – you name it, she's done it. What's great about Avia is that she is fearless. She'll take anything on; she always does a great job. When blackberry season comes around, she is out there picking blackberries." Cherished local purveyors include: Bellwether Farms and Vella Cheese Company in Sonoma, for dairy; fruits and produce from the gardens at Long Meadow Ranch, County Line Harvest and Capay Organic; heirloom beans from Steve Sando's Rancho Gordo; and Erin McGowan's Ridgecut Gristmills in Arbuckle, for grits and cornmeal.
A significant factor that accounts for Chef Shamus Feeley's successful chef-to-restaurant association is its identification with the food-artisan goody bag of superb ingredients, including those that are tailored and tended with integrity by Long Meadow Ranch's dedicated owners and staff. They have built and impressive roster with their estate produced organic extra virgin olive oil, award-winning Long Meadow Ranch wines, LMR Rutheford Gardens, organically certified herbs, flowers, fruits and vegetables, 100 percent grass-fed, Scottish Highland cattle, and eggs from adorable Ameraucana and Australorp breed hens.
After gathering a treasure chest of information about Chef Feeley and Long Meadow Ranch, you can surmise why I was ready to accept and trust the chef's choice on what to order when I finally paid a visit to his cozy but grand Farmstead Restaurant.
Now for the chef's dinner picks: grilled Berkshire pork chop with braised greens, celery root purée and apple butter, a slider with grass-fed beef on a crispy little homemade Hawaiian style bun, caramelized beets with goat cheese topped with crema and arugula. I normally do not eat pork chops, nor do I have a penchant for beef. Why then, would I seek out a restaurant that prides itself on their Long Meadow Ranch grass-fed Scottish Highland breed of beef and their Berkshire pork? Well, I think we've already covered that, but I will add a footnote here that the chef made a point to tell me that he appreciated the fact that I had put myself entirely in his hands. That alone gives you a glimpse of what's going on in the Feeley library of impeccable character. How many chefs would evaluate and appreciate a diner's willingness to experience and enjoy some of their favorite dishes?
So that we close the loop on my pork chop aversion, I am now a card carrying, wood grilled Berkshire pork chop convert. Farmstead's pork is from Heritage Foods USA who partner only with farmers committed to raising Heritage breeds – feeding them the right diet and treating them with loving care. The pork chop that arrived at my table was a soulful and delicious treat – unbelievably moist and flavorful and the trio of celery root puree, braised greens and apple butter perfectly balanced out the richness of the meat. There's probably not a day that goes by that Sheamus himself, does not, at the very least, take a bite of this dish.
I will leave you with one final, but noteworthy nugget-of-knowledge concerning chef Sheamus Feeley and Farmstead restaurant. Regardless of where you fix your gaze, there is evidence of the considerable and admirable effort towards repurposing salvaged farm materials such as the clever use of old milk bottles for water pitchers, napkins that are more like farm dishtowels, and charming chandeliers made from hay hooks and poultry feeders. Next door to Farmhouse Restaurant is the Logan-Ives House and Tasting Room originally built in the 1880's. The Long Meadow Ranch group undertook its restoration, employing a historical architect to bring it back its classic Gothic Revival style. The demolition presented Sheamus with one of his many "functional utilization" ideas, as beautiful planks of excess redwood stacked up. He would cut the planks down to 8-inch x 3-inch rectangles and use them as epicurean cutting boards. They would also be used for grilling bread and buns. The wood board, placed directly on top of the bread, provides just enough surface contact to force the dough to touch 100 percent of the griddle for an even toast. If that wasn't enough, our chef also had the redwood remnants cut to a 4-inch x 4-inch size for use as trivets to protect the tables from the hot cast-iron serving dishes. These examples clearly demonstrate the way in which Sheamus works in his kitchen, and how he applied those building blocks of utilization to the overall restaurant design. With a bit of his journalistic background creeping in, Chef Feeley's summarizes, by saying, "It is all about function and efficiency. If you have something that already exists, and you are able to capture a piece of history that tells a story, that is exciting."
Sheamus' Recipe>>
MEATBALLS WITH SPICED TOMATO MARMALADE
Serves 4
Ingredients
1/3 cup milk
2 slices of white sandwich bread, crusts removed and bread torn into pieces (1 cup)
1¼ pounds ground beef chuck (Sheamus recommends Long Meadow Ranch's grass-fed Scottish Highland breed)
1 large egg, lightly beaten
¼ cup freshly grated Parmigiano-Reggiano or Grana Padano cheese (Source: available in grocery stores and cheese shops)
1 tablespoon chopped parsley
½ tablespoon kosher salt
1 teaspoon chopped rosemary
1 teaspoon chopped oregano
½ teaspoon smoked sweet paprika
¼ teaspoon granulated garlic
¼ teaspoon cayenne pepper
Extra-virgin olive oil, for brushing
Spiced Tomato Marmalade, for serving
Directions
In a small bowl, soak the bread in milk for at least 30 minutes.
Mix all ingredients in a large bowl, cover, and refrigerate until time to portion (meatball mixture can be made ahead and refrigerated overnight).
Form the mixture into 1½ -inch meatballs.
Sprinkle with oil and roast in a 500˚ F. oven (convection if possible) until crisp on the outside and medium on the inside – 5-6 minutes.
Spoon tomato marmalade over the meatballs when they are hot (as soon as they come out of the oven.)
Serve on a platter with toothpicks to the side or insert them directly into the meatballs.
Spiced Tomato Marmalade
Ingredients
2.5 pounds tomatoes, peeled and coarsely chopped
Half an orange, thinly sliced and seeded
Half a lemon, thinly sliced and seeded
1 cup sugar
2 tablespoons apple cider vinegar
1 tablespoon Ras El Hanout (Source: Whole Spice, Napa, Ca)
½ tablespoon grated fresh ginger
Directions
Combine all ingredients in a bowl.
Transfer to a saucepan and simmer ingredients over moderate heat for about 45 minutes or when candy thermometer reaches 221˚ F. turn heat off immediately.
Spoon marmalade over meatballs when they are hot.
Cool and store leftover marmalade in the refrigerator for up to 3 weeks.