Tweet
Born in Ft. Lauderdale, Florida, educated at Johnson & Wales University in North Miami, Eric Warnstedt is a chef of distinction, notorious for taking great advantage of Vermont's purveyors, artisans, farmers and foragers for what is termed his "terrific New American dishes."
Chef Warnstedt opened his own restaurant, Hen of the Wood in 2005 marking the beginning of his serious love affair with Vermont's bounty of providers, as well as the recognition he would soon receive starting with Food and Wine Magazine's 10 Best New Chefs 2008, and three years running James Beard Foundation nomination for Best Chef Northeast.
One of Eric's prized purveyors remarked to me, and I couldn't have phrased it better, "Not bad for a kid from Florida."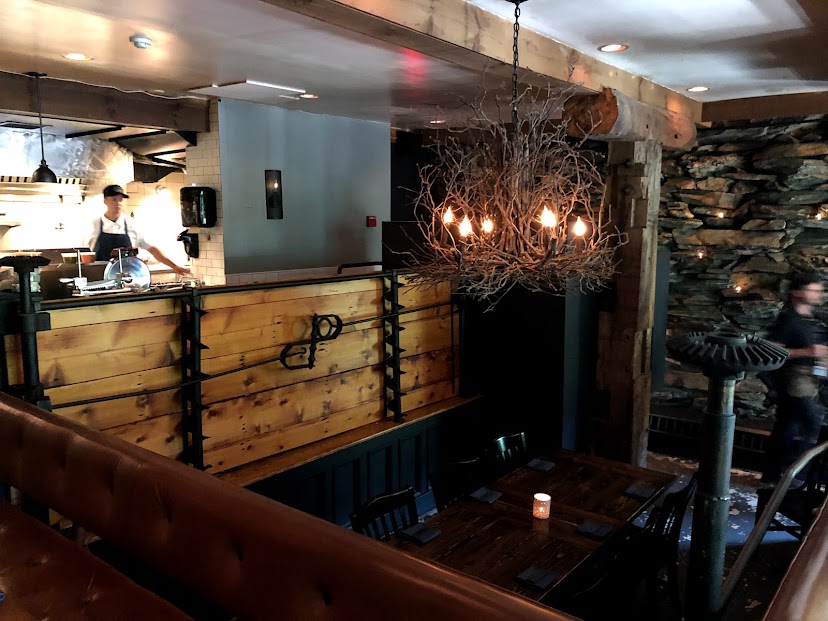 Vermont Matches Made in Heaven
Chef Eric Warnstedt talks purveyors, artisans, farmers and foragers
What most defines your style and culinary vision as unique to you? What do you think may set you apart? It's a difficult question because you're doing things that many chefs are doing.
Eric Warnstedt: I don't want to put any other restaurant down, but I feel like there's a big PR side to the local and organic movement. If you look closely at many restaurants, it's not as serious as they might make it sound in terms of their menu program and what exactly they're serving. Hen of the Wood's menu is printed daily. If I gave you a list of our farmers, it would probably be a couple of pages long. Our main focus is on the sustainability of the products that we serve and the regional farm economy. So, I think that it's taken a little bit more seriously here. I think that's helped us get a lot of the press and accolades and whatnot. The food is really pretty simple. It's just prepared well, and it comes from a really outstanding source.
In terms of your commitment to organic and sustainable standards, would you ever buy from a supplier who isn't abiding by those standards?
Eric Warnstedt: We work as hard as we can. That's why we reprint the menu daily. I think if you were to take a snapshot of the state of agriculture in Vermont on any given day, that's what you would see on the menu at Hen Of The Wood, hopefully. Obviously, we're in the Northeast, and it's a lot more challenging throughout the winter. We have guys that have pretty extensive root-cellaring programs. We're pretty much cooking the same way we did in October up until right around now when things start to pop out of the ground.
So it's really driven by the seasons and what is available?
Eric Warnstedt: To a fanatical point. I think any restaurant would say that in this day and age.
That sounds like a pretty standard answer nowadays.
Eric Warnstedt: It is, but I guess it's the degree to which the chef is committed to that and how they go about it. When you look for a supplier, purveyor, forager, etcetera, how do you find them? What's the process? I've been in Vermont since 1999, so I have an easier job of hunting a particular thing down. Vermont has a handful of organizations, the biggest being the Vermont Fresh Network. Its focus is to connect chefs and farmers. You could go on the Vermont Fresh Network website and punch in Central Vermont, cherries, and a list of guys that grow cherries or have orchards would pop up. I can call them directly, or I can see what local distributor carries their products. I don't really use the Fresh Network anymore. I've never really had to use it that much, but if you want to cook that way, the resource is there. It's a bit harder because when you order from bigger distributors everything is very size specific and color specific. When you start dealing with local food, there's a lot more variation. You need to be able to roll with it a little bit. That's where the daily menu change comes into play, as well.
Did you use them initially? In other words, how did you find your little cache of purveyors?
Eric Warnstedt: Well, we've been here at Hen Of The Wood since 2005. I did have five or six years on and off in Vermont to get to know some of these people or at least hear their names throughout the restaurant world. Although there were lots of restaurants using a handful of local purveyors, it didn't seem like there was anyone, at the time, really trying to do it 100 percent. There are many more places utilizing local suppliers than there was five years ago. Vermont is maybe ahead of some other places in that respect.
Why do you think Vermont is ahead in that arena?
Eric Warnstedt: Well, I think you have California, Oregon, and after that, I would put Vermont in terms of the young, progressive farmers and the large number of people who buy into it.
When I read a menu that tells me who the producers are, I'm delighted. I just hope that chefs are representing the information as honestly as possible. You alluded to the fact that maybe some restaurants may be serving a dish and representing it as one thing and it could be something else.
Eric Warnstedt: I don't know if I would say that from a specific dish standpoint, although I assume that happens. It's more of their general philosophy and the way they put themselves out in the public. Is that really happening on their menu?
In other words, they're talking the talk but not necessarily following the same philosophy in their kitchen?
Eric Warnstedt: Right.
Tell me about some of your purveyors, especially those that you share a more personal relationship with.
Eric Warnstedt: A rundown of just our cheese providers would total more than 20 farms, but I would have to say the most personal relationships I have are with Jasper Hill Farm, Pete's Greens, and Gopher Broke Farm, a cheese, a veggie, and a meat guy. In terms of those three, they're all very serious about what they do. George and Jane Nash of Gopher Broke Farm with their knowledge of homesteading, and what the Cellars at Jasper Hill have done with the cheese aging facility, well, there's nothing like it.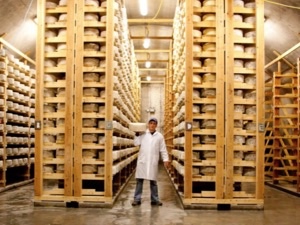 Our main vegetable farm is Pete Johnson of Pete's Greens. We take two deliveries a week throughout the summer, and one throughout the winter. They supply us with every possible vegetable you can think of in every variety and color. Pete has sort of taken the next step from the small vegetable farmer. He has really diversified. He has an enormous CSA here in Central Vermont. He's very active in the community. When you look at the website, you'll see that his main barn burned down in January. Since then, there have been different fundraising events throughout the whole state and Hen Of The Wood was a major participant. So, our relationship has been very strong, but now there is a deeper connection. Hen Of The Wood probably wouldn't be here without our relationship with Pete. At least the menu wouldn't be what it is. Everything is really based on what they do, especially throughout the summer.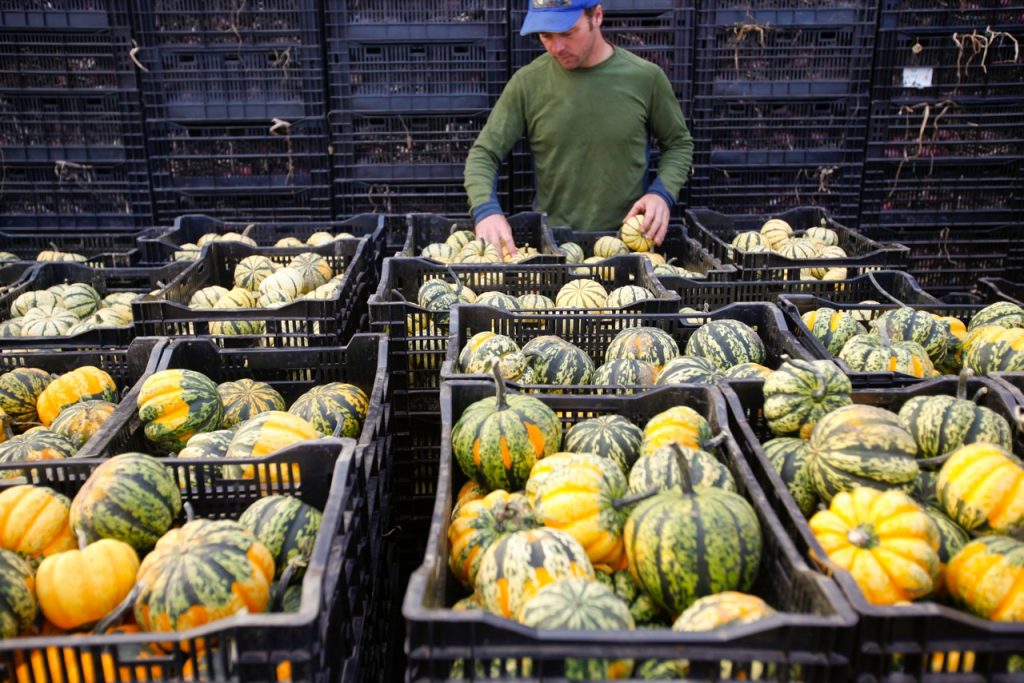 The next big supplier would be Gopher Broke Farm. We buy duck, lots of eggs, duck eggs, chicken eggs and poultry from them. Mostly what we buy from them is Poussin, which is a smaller chicken. They raise quite a few heritage breed chickens. We have a really outstanding personal relationship with them. They actually have a book coming out this spring about homesteading and how to make it work. George Nash and Jane Waterman are the authors, and they are just two of the most interesting people we work with. They are chicken people. They love chickens. That's a really strong partner for us. Gopher Broke Farm also has pork belly. They do pork, but most of the pigs they raise are just for themselves or friends. We bought a 300-pound whole pig from them, so every couple days we would change the cut.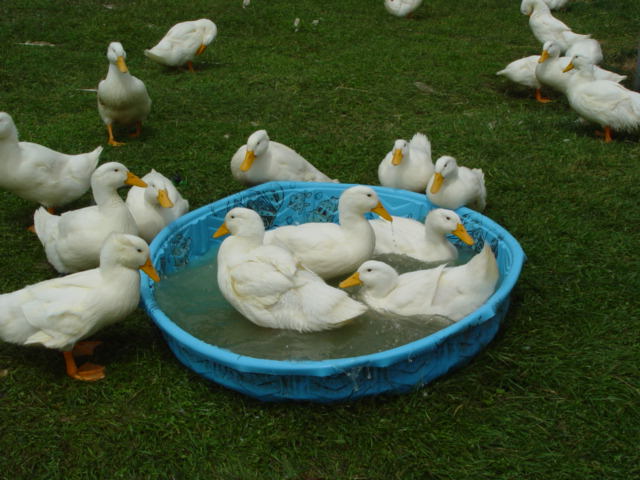 I saw black trumpets on your menu. Do those come from a forager or…?
Eric Warnstedt: The black trumpets are wild, so we do get them from our foragers who are really a bunch of goofballs. We buy from a handful of different people, although only one, Paul Moore, is a good friend. He's the tamest of our foragers. We've just worked with him for a long time. He's actually worked at the restaurant before. He's trying to get his business, Moore Mushrooms, off the ground. When the season starts he's in the woods until it's over. Right now we're getting ramps and fiddlehead greens from him – it's the beginning of the season here in Vermont.
What about beef?
Eric Warnstedt: Beef would be Greenfield Highland Beef, which is named after the type of cattle they raise. Ray Shatney and his parents, have been raising USDA certified grass fed/grass finished Greenfield Highland Cattle on their farm in Greensboro Bend, Vermont for over 40 years. Ray works with his partner, Janet Steward to market their beef.
Eric's Recipe>>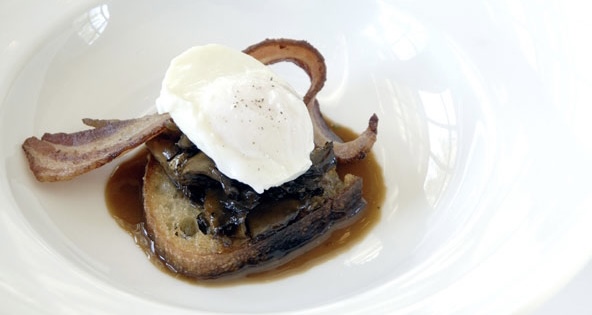 Hen of the Wood Mushroom Tartine
Serves 4
Ingredients
4 slices of bacon
1 pound Hen of the Wood Mushrooms or an assortment of other wild or cultivated mushrooms
Salt
1 shallot, minced
2 cloves garlic, minced
2 tablespoons parsley, chopped
4 ½-inch slices of sourdough or hearty farmhouse style bread
4 large eggs, gently cracked into a large bowl
Directions
1. Put a 2 quart saucepan of salted water on high on a back burner
2. Heat a large sauté pan on high heat and add the bacon slices. When the bacon is crispy on both sides, remove from the pan leaving the fat behind.
3. Add all of the mushrooms and toss a few times to coat with fat.
4. Season with several large pinches of salt.
5. Let the mushrooms sear before tossing the pan again.
6. When most of the mushrooms are browned, add the shallot, garlic and parsley, give one final toss, and remove from the heat.
7. Grill or toast the bread. Chef's Note: We like to soak it with good olive oil and season with salt and pepper. The bread can be seared in the pan, broiled in the oven, or grilled over coals.
8. When the bread and mushrooms are ready, add all 4 eggs to the boiling water and poach for 2 minutes.
9. While the eggs are poaching, lay the bread on a serving platter, top each piece with mushrooms and a slice of bacon.
10. Remove the eggs with a slotted spoon and gently set one on each slice of toast. Chef's Note: We like to season the eggs with really good salt and lashings of cracked pepper.