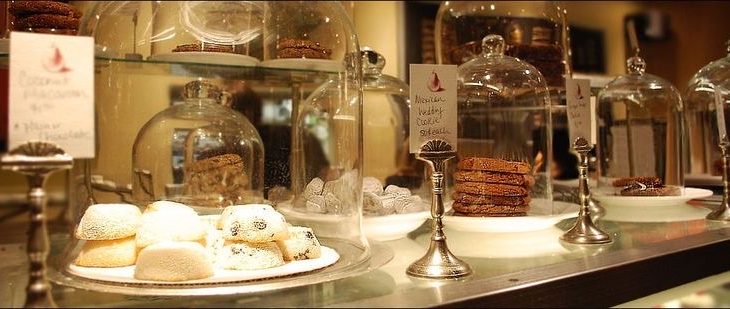 Tweet
I admit that I am easily amused, and consistently surprised by the endless spigot of chef-selected paraphernalia that comprises the restaurant arsenal. The cloche (cake dome), and cake stand are amongst the function-meets-design items that the chef has owned for so long that they are almost forgotten – let's face it, we're not resurrecting their set of knives. The chef's description of its merits: it protects and reveals at the same time – a chic and enticing way to draw the eye to the edibles displayed on restaurant tables and counters.
Not too long ago, I paid a visit to one of my favorite bistro style restaurants in Southern California, Tartine on Coronado Island. After being seated, almost within touching distance of a landmine of gorgeous cloches of varying sizes, I vowed to start my own collection. My inquiries as to where the restaurant purchased their domes led me to nowheresville. I left Tartine very pleased with the food and service, but "dome despondent." I didn't give up. I put the dome supplier question to a few chefs. Again, nothing came of it. Who is normally in charge of purchasing supplies is my next restaurant detective assignment?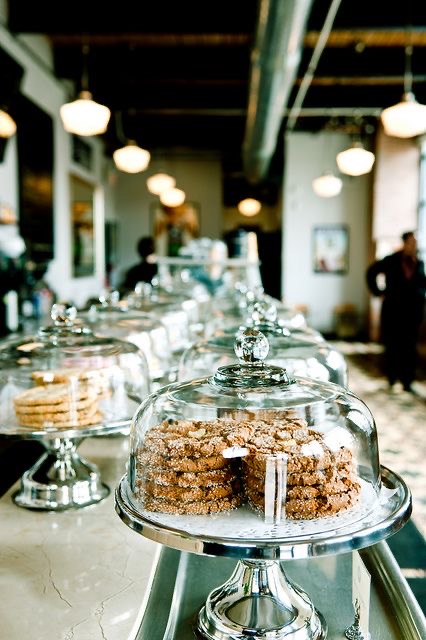 Almost immediately following my strikeouts, I happened to be reading the Los Angeles Times, and right there in front of my face was, not only a photograph of two cake domes with stands, but also, to my great disappointment (in myself), they were from the powerhouse of design wisdom, Sue Balmforth's store, Bountiful in Venice, California. What had I been looking at during the years I perused the labyrinth of American and European country furniture, lighting, dishes, mirrors, and heaven only knows what else I missed in the bountiful (had to do it) nooks and crannies.
During a recent tour of the Surfas Culinary District's now flagship restaurant supply and gourmet food store in Costa Mesa with owner Diana Surfas, my cloche optimism now in full swing, I asked to be directed to the cloche and cake stand isle. Rewarded with multiple cake stands and cloches large and small, I realized that they were here, there, and probably everywhere. Like the chefs, I had not removed the cloche from memory, but had taken its lovely form and function for granted.
Let's start with the cake stand (food establishments frequently use a plate). Cake stands are rendered in many colors: cobalt blue, milky white, black, milky pink, vintage optic glass; materials: plastic, wood, acrylic, and glass; and designs: scalloped, fluted, lace, and wire.
Some call the cake stand a cupcake stand, or a dessert stand. I say name it by whatever you top it with: cookies, tarts, pie, candles, flowers, hors d'oeuvers, cheese, or cake.
Bountiful's Cake Stands: the blues and greens
Bountiful's Cake Stands: the Pinks
Surfas Culinary District's cake stands: the glass and stainless steel
Surfas Culinary District's Cake Stands: pretty in pink and green
In 1882 the French developed the glass cloche (bell) from the Medieval Latin clocca, which was a bell-shaped cover formed with a single sheet of glass and originally used to protect plants from the cold and frost. Over the years, the cloche has been repurposed as a cover for food and dressed up in a myriad of shapes, styles, and materials: bell jar, domed swirl, embossed, pressed glass, crystal cut, and wire.
Just because the French introduced the cloche it doesn't indicate that they alone possess the clever gene. I use it as a disciplinary tool when my cat plays some fiendish prank on me. You guessed it, I place her toys, in full view, underneath the dome. Now that's form-follows-function.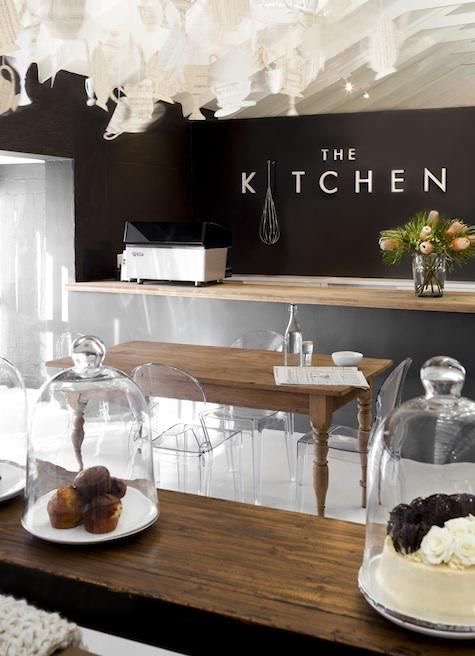 You don't have to be a professional chef to justify purchasing a cloche or a cake stand. If you are a professional chef and don't have at least one cloche in your restaurant, well . . .