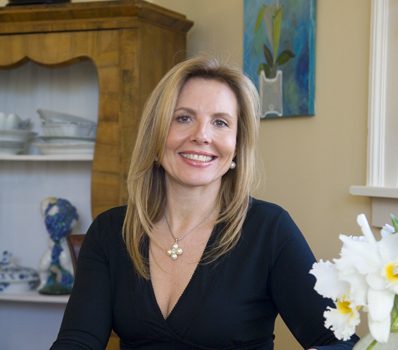 Tweet
Success is Hard Work:the first bit of information that Sylvia Main parts with the moment I ask her "What unexpected lessons have you learned or steps to success that you've called into play as you set out to fulfill your vision and talent to make something from nothing, or very little into something that works?" Sylvia doesn't offer me a frothy tale of philosophical viewpoints that inspired her to transform Fairholme Manor into an award-winning inn, or flash me with her secrets for writing two successful cookbooks. She speaks the plain and simple truth: "Success doesn't come from sitting around. Success doesn't come over night; you have to earn it. People say, "You're so lucky," but it is work. If you have a dream that you want to make a reality, rarely are you going to be wrong if you do your homework and make the right decisions based on that knowledge. Keep things simple. Never start something and not follow through. Follow your dream without being influenced by other people. Never get stressed. I never really take things personally."
As any success story unfolds it does so with rather ordinary circumstances and events, and then begins to relinquish the fruits of the labor with accelerated speed, and in unanticipated ways.
Sylvia Main's success story began with her purchase of the Italianate-style home, Fairholme Manor many years ago. "I always knew it would be good real estate investment. It's adjacent to the gardens of Government House, the official residence of the Lieutenant Governor of British Columbia, which is one of the reasons I bought; nothing could be built next to it. But then you have this huge monster of a house. I thought to myself, Oh my God, how am I going to fix this up with one income? It's going to be impossible. What do I make out of it to create something to that will help me fulfill my dream? How can I generate some revenue without going back to work? I got my degree in languages and literature at the University of Victoria knowing that I wanted to work for myself. I already had a mortgage on the house, but I decided to take a credit line on it to refurbish the rooms. In 1999 I opened the penthouse suite to see how it would do, as it was the largest space, more like an apartment with a nice ocean view. In the beginning, I did all the cleaning myself and brought continental breakfast to the room. It was no dream world: taking care of my two kids, cleaning, making breakfast, and taking care of my two kids. It was one of those things you just have to do."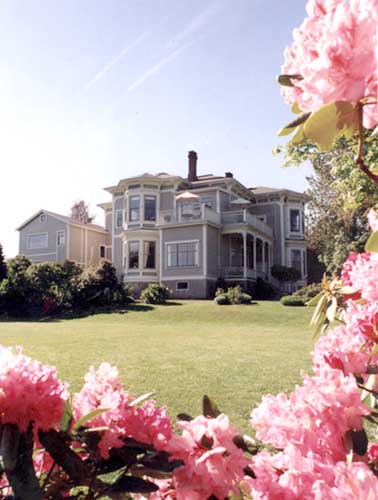 A professor from UCLA who also wrote for the Los Angeles Times travel section paid a visit to Fairholme Manor. His golden words review of the wonderful bed and breakfast apartment with an ocean view filled the room for quite some time, and within six months Sylvia paid back her loan. Her plan was to open one room at a time to determine its success. When the third room was opened she hired staff to help.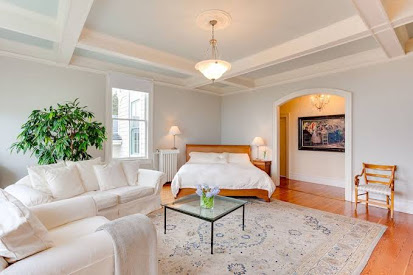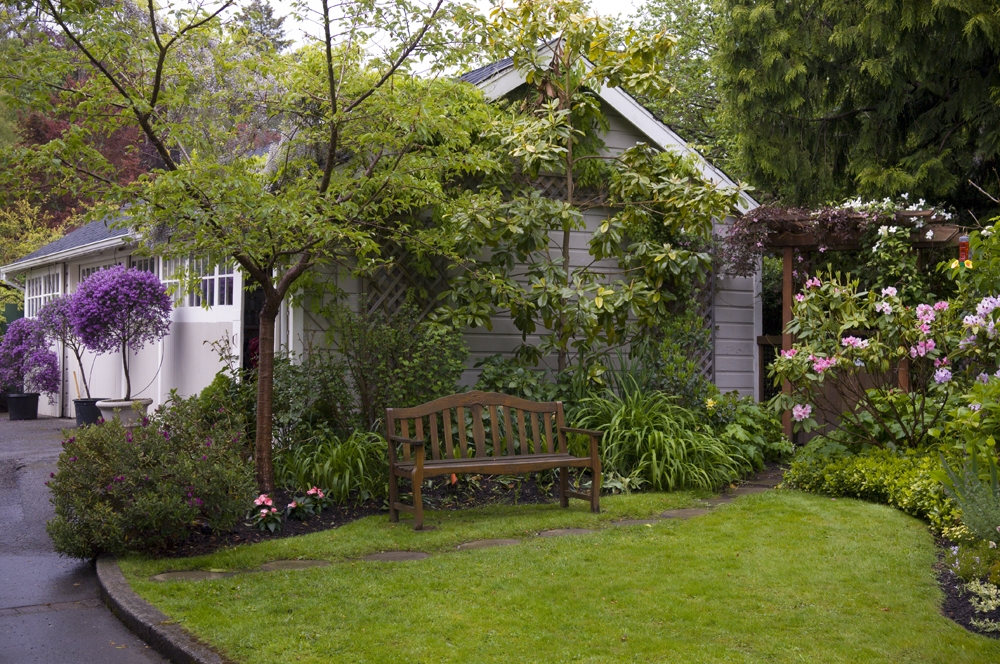 Having had the pleasure of staying at the beautiful Fairholme Manor, I share an overall impression with many visitors: sheik European style; thoughtful detailing: fresh flowers, floating candles and original artwork by Jill Louise Campbell, Kristine Paton, and Inge Ranzinger; and the privacy that the spacious mansion is able to provide.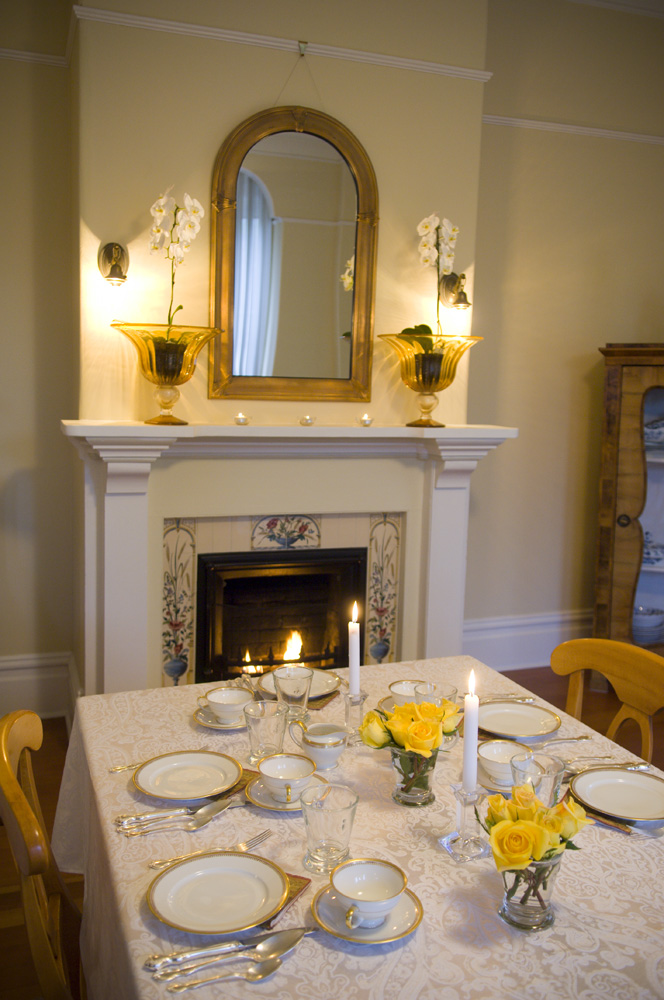 Once Sylvia opened all the rooms in the manor, what prompted her thoughts of writing a cookbook?
She had quite a few repeat guests who would ask her for a recipe for some dish that they had enjoyed during their stay. How could she possibly spend the rest of her bed and breakfast career writing up recipes such as the heavenly lemon ricotta pancakes (I speak from experience)? Why not write a little cookbook and include photos of Fairholme so that the guests would have a souvenir of their visit.
It took no longer than the time necessary to write, copy or email yet another recipe for Sylvia to snap into building what she decided should be her self-publishing book team: a travel writer friend, Sue Frause, to serve as editor; John Archer and Cathie Ferguson would cover the food and inn photography; and Reber Creative was hired to do the book design and layout. Sylvia says, it's not just me who wrote the book; it's the whole team.
Applying her steps for success to the book writing process: keep it simple, stay focused, and do your homework have again proven to be the "Main" winning ingredients. Sylvia never stops doing her homework. It's evident in her big-picture thinking that spans putting herself on the book cover because she represents Fairholme – not wearing, in her words "a tiger outfit" but instead a sedate black sweater with a little heart necklace – to sending Whitecap, the biggest publisher in Canada, a copy of her book. They didn't have a breakfast and brunch book that was good for them, so they agreed to do a second and third printing of Fabulous Fairholme: Breakfasts & Brunches. The book is in its fourth printing.
With a new book out, Easy Elegance from Fabulous Fairholme: Breakfast.Brunch.Lunch, Sylvia tells me she has no plans to reign in the success express. "Maybe some people can't say this, but I really love my life."
The love of life, infused with style and substance is what Sylvia gives to both her readers and guests.
Main's Bits + Pieces
Favorite foods or dishes?
Sylvia Main: I'm a savory girl. I love cheese. I love Italian food. I love seafood. In my next life, I'll come into this world as an Italian.
What would you like to do that you haven't done?
Sylvia Main: Go to the moon. I think it's so outrageous; it'd be so cool to do.
Give me experiences in your life that have influenced your approach to cooking and the recipes you have selected for your books?
Sylvia Main: I was born in Vienna, Austria. My parents were always interested in fresh, local, and organic foods. We would visit local farms and buy a whole pig, and put it in the freezer. We would buy carrots, and root vegetables, and put them in our cellar. We would buy organic wine, and store it in our cellar. We grew up with the farm that didn't use hormones. I grew up cooking everything from scratch. I had my own vegetable and herb garden.
What's the biggest professional risk you've ever taken?
Sylvia Main: When I did the first cookbook it was a risk. But I thought the worst scenario in my case was that I would have to write them off the books and give them as gifts to my inn guests. On the other hand, I thought it less risky because I already had an outlet where I could sell or give them away.
What are your favorite home kitchen tools or products that you couldn't live without?
Sylvia Main: I can't live without my parchment paper. I use it for everything. I put it underneath my scones or potatoes when I bake them. I have less washing to do after. I also couldn't live without my Cuisinart. I make
my scones in them. I cannot live without my white plates – square, round, oval – any shape. I like to use herbs and edible flowers and their colors would clash with anything but white dishes. They're clean, simple, and elegant.
What talent do you offer the world that's uniquely yours?
Sylvia Main: I think I have pretty good taste. I think I'm a little fun. My ability to make something beautiful from nothing, or something that works. My husband tells me that I am good at sales.
What do you struggle with?
Sylvia Main: If you ask me to iron a shirt, I will say, "Oh my God. I just can't do it. I would burn the shit out of it." I just can't do it.
Favorite hobbies or passion not related to the inn or your cooking?
Sylvia Main: I run five times a week. I've been doing this for 25 years. I do my own stocks and finances. I can talk about any stock market in the world. That's what I love doing. I find it very interesting. I read Barron's weekly. I've been an Apple and IBM shareholder for years.
Sylvia's Recipe>>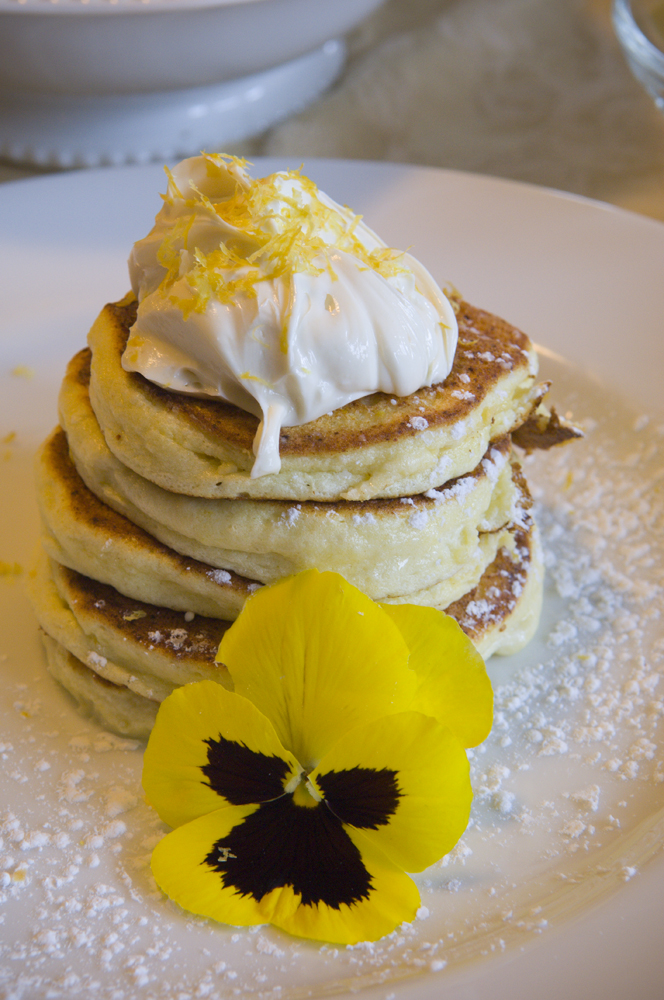 LEMON RICOTTA PANCAKES
Serves 4-6 people
Ingredients
5 eggs separated
Zest of 1 lemon or orange
1 cup milk
1¾ cups ricotta cheese
1 cup all-purpose flour
2½ teaspoons baking powder
½ cup sugar
Dash salt
Maple syrup and/or crème fraiche
Directions
Preheat griddle skillet on medium heat.
Mix together the 5 egg yolks.
Sift and mix the dry ingredients and combine with the egg yolks, lemon or orange zest, milk, and ricotta cheese.
Beat the egg whites until stiff. Gently fold into the egg-ricotta batter.
Lightly oil griddle and pour a pancake-sized amount onto griddle with a ½ cup measuring scoop. Cook until bubbles form. Flip and cook other side until golden.
Serve with warm maple syrup and crème fraiche. Sylvia's Tip: This soufflé style pancake will melt in your mouth. Only flip once and don't flatten the pancake after you flipping. This keeps it nice and light. Many guests phone ahead to make sure we'll be serving these pancakes during their stay.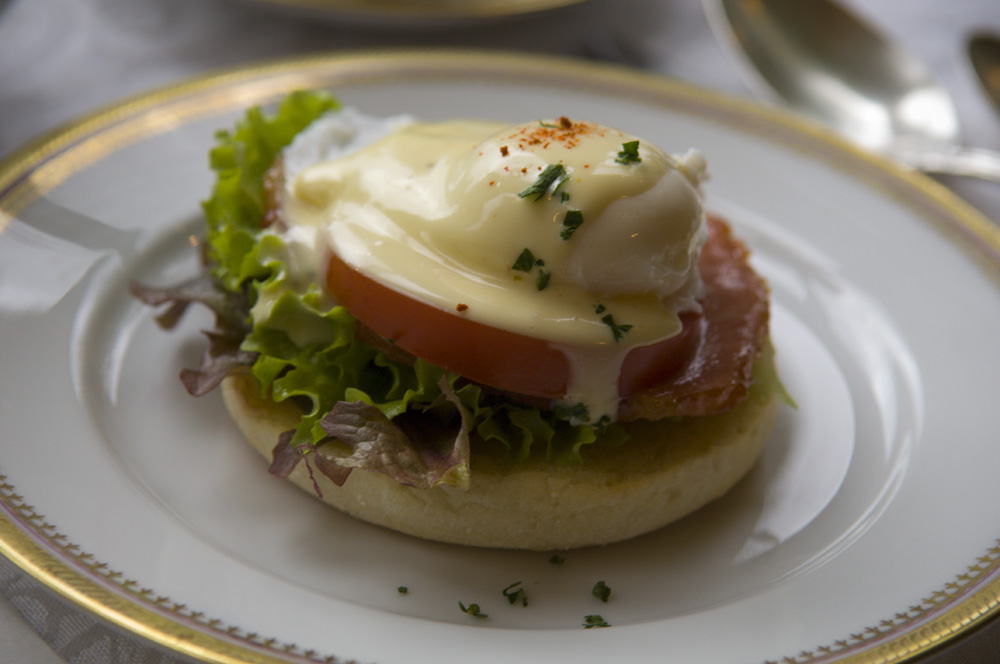 FAIRHOLME'S EGGS BENEDICT
Serves 4
Ingredients
8 large poached eggs
4 English muffins
8 slices Canadian bacon
8 slices tomato
1 cup mixed salad greens (optional)
2 tablespoons chives or parsley, finely chopped
Cayenne pepper
Butter
Hollandaise sauce
Directions
Prepare Hollandaise sauce, set aside. Lightly toast and butter English muffins, keep warm in oven.
Heat Canadian bacon in skillet with a little butter, do not brown. Place in oven with English muffins.
Poach eggs and remove excess water.
To assemble, place English muffin on plate. Top with Canadian bacon, greens, tomato slice, and poached egg.
Pour 1-2 tablespoons Hollandaise sauce over each egg. Garnish with chopped herbs and a pinch of cayenne.
Variations:
We offer our guests several variations of this wonderful dish. Substitute the Canadian bacon with fresh smoked salmon or smoked tuna. For a vegetarian option, wilt fresh spinach in a little butter with minced garlic and season with salt and pepper. Flavorful summer heirloom tomatoes are way to spice up this classic dish.
Blender Hollandaise
Serves 6
Ingredients
3 egg yolks
2 tablespoons lemon juice
Pinch of cayenne
¼ teaspoon salt
¾ cup butter
Directions
Heat butter in microwave.
Place egg yolks, lemon juice, cayenne, and salt in blender and turn to high for about 10 seconds.
With blender running pour the melted butter into the egg mixture in a slow, steady stream. Allow the butter to fully incorporate and blend for 30 more seconds.
The sauce should be light, creamy, and smooth when done. Serve immediately.
Sylvia's note: This recipe works every time and is a cinch to prepare.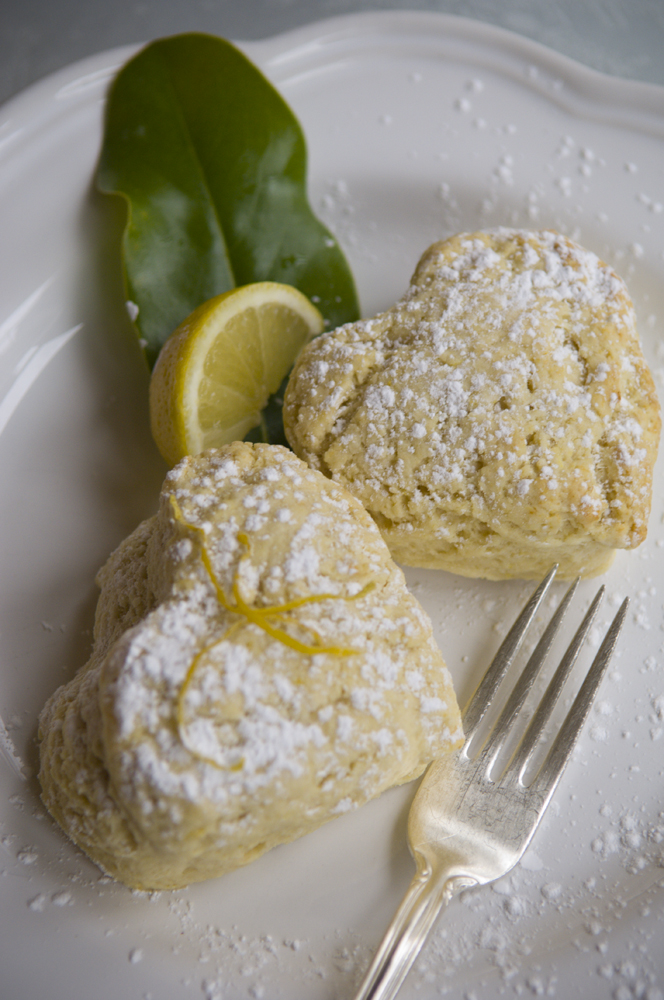 LEMON CURRANT SCONES
Makes 12 scones
Ingredients
3 cups all-purpose flour
3 tablespoons sugar
2 tablespoons baking powder
¼ teaspoon salt
Zest of one lemon
¾ cup cold butter
1 egg
Buttermilk
¼ cup currants
Raw sugar
Directions
Preheat oven to 375ºF.
Sift flour, sugar, baking powder, salt and the lemon zest into the bowl of a food processor. Pulse a few times to mix the dry ingredients.
Cut the butter into 1-inch cubes and add to the processor. Pulse until the butter resembles course peas.
Crack the egg into a large glass measuring cup and beat lightly. Add the buttermilk until the liquid reaches 9 ounces.
Slowly add the liquid to the batter, pulsing after each addition. Be careful not to over mix. Only pulse until the mixture starts to come together.
Turn the dough onto a lightly floured surface. Knead the currants into the dough with your hands until the dough comes together. Do not over mix. Pat or roll the dough into a 1-inch thickness. Using a 2-inch cutter (we like to use heart shaped cutters, cut the dough into desired shape and place on a parchment-lined baking sheet. Use two baking sheets together to prevent the bottoms of the scones from becoming too brown.
Sprinkle the top with raw sugar. Bake about 15 minutes until lightly golden.
Sprinkle lightly with powdered sugar before serving.
Scone Variations
White chocolate, Cranberry and Orange:
Make the scone base, substituting 1 teaspoon orange zest instead of lemon. Add ¾ cup white chocolate chips, and ½ cup dried cranberries. Sprinkle lightly with powdered sugar before serving.
Apricot Almond Scones:
Make the scone base, omitting the lemon zest. Cut in ½ cup of diced, dried apricots. Cut out scones, sprinkle with sliced almonds and raw, coarse sugar.
Sugar Berry Scones:
Make the scone base. Add approximately ½ cup of fresh or frozen berries and sprinkle with raw, coarse sugar. Sprinkle lightly with powdered sugar before serving.
Fabulous Fairholme Cookbook
Find out more about Sylvia Main's books and Fairholme Manor @ www.fairholmemanor.com